Welcome to this week's Small Steps Amazing Achievements, as Jane at @ourlitescapades and I co-host, the Linky is hosted by Jane this week, but you can always link up below as the code synchronises.
Thank you to everyone who linked up last time, we enjoyed reading your posts.
If this is your first time reading this, you can find out about the Small Steps Amazing Achievements linky here, we do hope you join in. Posts can be old or new and please don't forget to visit and comment on other posts too, helping to spread the linky love.
Here's the badge code if you'd like to grab it: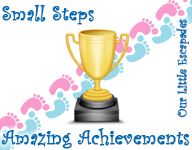 <div align="center"><a href="http://ourlittleescapades.com/small-steps-amazing-achievements/" title="Our Little Escapades" target="_blank"><img src="http://ourlittleescapades.com/wp-content/uploads/2014/12/SmallSteps.jpg" alt="Our Little Escapades" style="border:none;" /></a></div>
Here's my highlights from last week's post:
@mamamakedopush shared an update on how her H-bear is doing at nursery
And
Sir and Madam surprised and pleased @earlyrisingmum when they prepared their own breakfast
We're looking foward to reading your posts, here's the linky 😀


---
---