Nearly Friday and I could do with some positivity, the children have been fab (niggles aside) but I've been a bit "bleurgh".
So, onwards with some cheerfulness:
1. Timing!
Good old Mother Nature, I never know when my cycle appears or how long it will last, but when it does, it's awful, truly awful. Thank goodness I had no school runs and could just be at home and ride it out.
D made me laugh with her comments about it all, she told me at one stage that she "thought you (me) could deal with it, that's what you (me) told me"!
2. Midnight housewife
I'm sleeping badly this week, probably a combination of (1) above and the uncertainty around T's team (more on that tomorrow), but instead of lying there, getting annoyed, I've been getting stuff done in the small hours. The house seems so quiet (apart from some snorty snoring upstairs) and it's satisfying to get things done without having to be a referee/having my shadow (D, T or a combo of both) following me everywhere.
3. Girlie time
D and I will have a little trip this weekend, a girlie shopping trip. It's nice to go into the shops with her that T flatly refuses to go in (Phase Eight) and just spend some time looking at glittery/pink/sparkly things. More often than not, it's a browse but it's always great to walk around with D arm in arm.
Last time we did this:

So, I'm sure there'll be some more funny photos taken.
4. Craft work
I'm now a craft ambassador for makeitcoats.com and our first kits have arrived to get stuck in to. I'm looking forward to needles of the embroidery variety and seeing how we get on.
I'm aiming for more than 4 happy thoughts next week!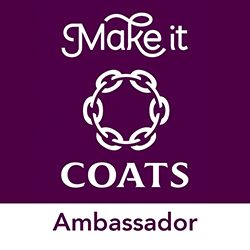 ---
---