For those who regularly read my blogs (and thank you if you do), you'll know that this is a pesky topic this week.
The "thing" now has a name as that seems to make it easier to deal with and I'm not so much honouring it with a piece of prose, but inviting it to leave! Linking up with lovely @vicwelton for #Prose4T.
Dolce The Ulcer
I have an angry ulcer in my mouth
I wish it would b**ger off
It hurts when I do something –
like laugh, or sneeze or cough
I've called it "Dolce"
It's big, fluid-filled and red
I tried to give it a name
I disliked in my head
Not after the designer,
Oh no, what would I do that?
But instead after a silly singer
With a novelty tune that was tat
My dear Hubbie said a line from it
He got greeted with a glare
I'm hoping, very soon
Dolce will be gone from our lair
But, for now, Dolce is quite happily growing
Causing discomfort and pain
I hope he b**gers off quietly
Without a big squishy parade
In time I won't miss it
In my quest to get smiley
It's been another challenge
Dolce, soon you'll "mean nothing to me"
Aaah…..begon you ullllllccccceeeeeeerrrrrr!
(Kind of to the tune of
Vienna
)
This isn't
"Dolce" btw, believe me you don't want to see it!!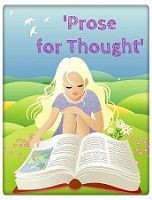 ---
---