Oh T has looked forward to and needed this half term.
The early starts (leaving at 7.45am for the school bus), the homework and the fact he's a "small fish in a big pond" as a year 7 in secondary school, they've all contributed to a weary T.
The last few weeks have been quite challenging, with not only T's tiredness and the fact he masks his emotions and (at times) anxieties at school, but also he's getting quite forthright at getting his opinion across and not necessarily wanting to listen to rationale. At home anyway.
It has made for times when I've felt like a referee between him and D, especially when their emotional and intellectual variances are right at the forefront of any squabbles.
Today though, this happened:

T had been woken up by Hubbie leaving early for work and instead of getting up and starting his day, he snuck in and occupied a space left by his dad. And went back to sleep.
This fiercely independent tween suddenly took me back to the toddler who wouldn't sleep unless I sung to him, who slept in a little camp bed in our room until he was 6 because he was scared of being in a room on his own.
It wouldn't help to remind him of all that now, in fact knowing T, he'd strenuously deny it.
But the catching-up with sleep is helping this week. He's been more communicative, more (ish) open to suggestions and he and D had some squealy giggly trampoline fun this afternoon.
I know there will come a time when hormones will fully take over, when (the rare) cuddles we do get will disappear and that this morning was a rarity. Nice though that he still felt he could do that.
D is enjoying having a more amenable brother around too.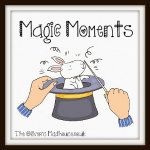 ---
---