Yes, we're into December, the end of term is a fortnight away and Glitter (our Elf on the Shelf) is flitting around, finding new places daily, but the one word to sum up our week is:
We all have it. This hacking, dry, annoying, sleep-disturbing cough.
Even the cat (well, the one that bothers to go out anyway). She'll head out into the pre-dawn when Hubbie gets up, off "on patrol" and then return damp, fluffy with a tail to rival a fox and "meow-squeak-cough!" She even follows D and I part-way when we walk to school and waits in all weathers, squeaking as soon as she sees me. Silly but loyal moggie!
If I had a £1 for every time I've said "cover your mouth when you cough" or "take little sips of water", then I'd have quite a few. But if they're "zoned out", (cat aside) they take no notice and carry on hack….hack…hack.
The upside I guess, is that:
a) we've all got it at the same time, which hopefully means it won't get passed around
and
b) we might have sent it away by D's school singing performance next week and the week after
T is taking great delight in trying to make me laugh on the walk home from school, which generally results in a few squeaks and then a coughing fit (from me) which occasionally backfires on him and then he'll start hacking too.
I'm hoping next week's Word will be germ-free!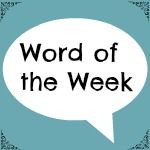 ---
---