It's very rare that T and D (D especially) will sit and watch a family film, especially if they haven't seen it before. It's that resistance to change, that fear of the unknown and unwillingness to just "test the water".
Any DVD we watch tend to be old favourites, the Ice Age/Rio/Madagascar series are all popular and can almost guaranteed a squabble-free time but it can get all a bit …well, same-y.
This was showing on ITV2 today:
And yes, there were grumbles when it was switched on but we persevered and they both enjoyed it. Both laughing at Mr Eidelweiss (the putty-loving crow who saved the day) and all the general special effects.
There were some nice little moral tales contained in it too. Things that will make good little conversation points in weeks to come, especially with the Christmas holidays being a matter of weeks away.
But, for now, it was just nice to all watch something (albeit T and D would be doing other things and then come back to it) without too much protest.
Quite a big family moment for us and a good end to our weekend.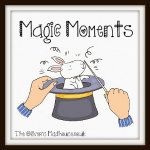 ---
---