Now that half term is here, I'm looking forward to doing some baking with T and D, but in the meantime here's a dish that he made in Food Tech and brought home for us to devour evaluate.
I've called it "Rustic Crumble" as T chose to leave the skin on the fruit and it added to the flavour in a positive way.
Ingredients:
100g plain flour and 50g oats (or 150g flour)
75g margarine
75g brown sugar
500g fruit and 25-50g brown sugar or canned fruit
Equipment needed:
Mixing bowl
Sieve
Round ended knife
Chopping board
Peeler
Vegetable knife
Oven proof dish
Baking tray
And here's how he did it:
1. Preheat oven to Gas 6/200c or fan oven 180c.
2. Sieve the flour into a bowl, add the oats if being used. Cut the margarine into small pieces with the round ended knife and add to mixture.
3. Rub the margarine into the flour until the mixture resembles breadcrumbs.
4. Stir in the sugar.
5. Prepare the fruit (core, skin if apples), slice into oven proof dish, sprinkle over the sugar
OR
Pour tinned fruit into dish.
6. Spoon topping over. Place dish on a baking tray.
7. Bake for 20-30 minutes or until the crumble is golden brown and the fruit is soft. 15-20 minutes if using tinned fruit.
It was really quite nice. T, bless him, had left the skin on (fortunately they were dessert apples as Sainsburys didn't have any cooking apples when we went) and to add to the appeal, he'd carried the dish around vertically in his school bag (with a lid on!) all day so the crumble mixture was well incorporated in the fruit by the time it got home. It kind of made for a caramelised apple pudding. Very sweet so it didn't need any custard for me, naturally Mr Bluecrisps had some though.
Kids in the kitchen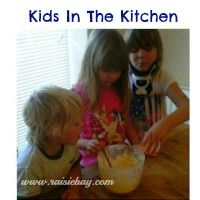 ---
---