There are so many words I could have picked to sum up our week, a week in which we've seen T start at his secondary school and D return to a new class at her SN school.
I could have chosen:
Change – plenty of that this week, major changes for T obviously and that has impacted on D, we're no longer dropping him off before going to her school (he now leaves an hour earlier) and we have to wait for his school bus after picking her up in the afternoon.
Routine – as above, lots of new routines.
Pride – oh yes, indeedy, tons of it. Seeing T in his uniform, with his shirt and tie (that he ties himself), looking so smart. Oodles of pride.
Relief – masses of that that he's got used to his new school already, he's found friends who play in other local (ish) football teams and is taking all the new regimes as they come. I think he likes the "you will do this" environment tbh, he's not one for vague instructions.
But eventually I decided on this, look closely at the picture and you'll see my word for this week:
Instinction. I am so, so glad that we persevered and went through the appeal for T's school place.
Instinct told us when we visited that it was the best place for him and again, instinct and a determination to do our best meant that we sat in front of a panel in June and set out why we thought T deserved a place. We were only one of six successful appellants and the Head told us at an open evening that we'd "made a very good case".
T is coping far, far better than we could have hoped. Okay, it's very early days and he does get frustrated when the school bus is late, but that's how he is, at least he's masking it until he gets off in the afternoon (and passes me his majorly heavy school bag).
It was the same with D's SN school, she wasn't coping in mainstream and we visited the SN school once we knew a statement had been granted (at the second attempt). It felt like the best setting for her immediately and we were lucky there too, an anticipated six month wait became three months and she has absolutely flourished in the right environment for her.
When your child is first diagnosed with a life-long disability, it is hard to know which route to take, help isn't actually forthcoming, leaflets are handed over and then you leave. We've learnt to trust our instincts when it comes to T and D, which may not always be what "professionals" advise, my Bye Bye Buggy post is a prime example.
So, instincts is a good word for this week, so darn pleased we followed them. T is much calmer now that he's had a few days at school, he even had a "rough and tumble" with Hubbie tonight and he's very much a "don't touch me" chappie. Hope it continues this way.
One thing I hope doesn't continue is the lyrics rattling around my head – "it's my Instinction, whoo ho ho haay!" – powerfully sung by Tony Hadley in the song Instinction. I love the drums in this song and the harmonies but it's time they left my head now! Great song though.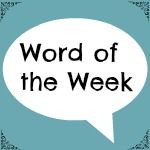 ---
---