We're coming to the end of both D and T's first full weeks in their new environments and there can only be one word for this week:
We are so pleased that they are both settling in well, D in her new class and T in his new school. Both are facing challenges, D is the only girl in her class and with two of her three "boyfriends" and for T, it's been a case of:
*new (secondary) school,
*new stricter uniform
*leaving the house much earlier to catch the school coach
*and getting used to so much change.
He's doing well and seems so much happier than in primary.
He has PE three times a week, with different PE kit/boots for whichever sport they're doing (which is taking some getting used to, in terms of bag packing) and there are so many books that he has to lug around, he's taking it all in his stride though.
What else has made me cheerful this week?
Well, my lovely Hubbie has bought me some new glasses, I'd be lying if I said they didn't have purple frames (!), it will be two weeks until they're ready and then …wahey! I wasn't a glasses wearer at all until about 18 months ago (and only for distance) so the fact that these will be worn all the time will take some getting used to, but it will be worth it.
Now that the children seem settled, I want to do some studying/learn something new. Whether it be a leisure topic or something more serious, I'm not sure. I heard a musician playing the Pink Panther theme on a clarinet in town during the week and it sounded amazing, so maybe that's a good place to start researching, or an art topic, really don't know.
So, a week in which I'm putting out little feelers, wondering which path to take and just feeling happy.
How's your week been?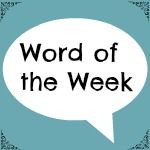 ---
---