Another Friday already! These weeks are whizz ing by far too quickly, I'll have to start thinking about the "C" word soon…maybe…let's get Hubbie's birthday out of the way first.
My word for this week could have been "Busy", because it has been.
T has so many books and textbooks for different subjects and three (yes three!) different combinations of PE kit, depending what sport he's doing, so packing his school bag can't be rushed in the evening as they (apparently) give out "sin" marks for the simplest things. Not that T has any yet, phew.
As Hubbie is self-employed and heavily involved in T's football team, there's always invoices and emails flapping around too, I was sending an invoice out at 11pm last night, now that's overtime for you.
But, I have a better word for this week, one that's quite infectious:

And here's why (my R2BC bit):
I am waiting in today for a box, a big box. One that will change D's school run for the better. The pessimist in me says I'm not going to say anymore until it's safely here but it's very exciting!!
She also has a little "date" tomorrow, naturally a supervised one. In Costa, at the other child's suggestion, which I could not be happier about as she's very comfortable there and I can get a mocha at the same time (tee hee). She will have her own water bottle and snacks so I don't think much pocket money will be spent (!) She's a tad excited about it all and I imagine there will be a tutu skirt and various bits of costume jewellery worn (by D,
that is).
Saturday also brings football for the menfolk and as T's league has now started, it's time for stats and facts, he loves them.
And being Friday, it's a chip shop tea for us all, which D absolutely loves. She'll wake up on Fridays and we'll say "what day is it today?",
she'll squeak "Friday",
then we'll say "what does that mean?" and then there'll be an ear splitting squeak back of "Fish and Chips!"
Great stuff! Now it's onward with door-watching and waiting for that box, it's all very exciting!!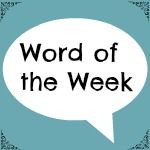 ---
---