One of my little extravagances if I pop into town, is a cheese scone from M&S, no butter or margarine with it, just on its own.
Town trips are few and far between in the summer holidays as getting T beyond our garden fence is a challenge, he just prefers to be at home.
So, D and I thought we'd make some cheese scones last week. It involved a couple of new skills for her, that of grating (which is quite complicated when you think about it, having one hand holding down the grater and the other putting pressure on the cheese) and also using a rolling pin.
We found a recipe online and, in retrospect, I'd use more cheese next time. We made another batch and substituted cheese for chopped up cooked bacon, which was really yummy too.
Cheese scones
Equipment needed:
Large mixing bowl
Sieve
Grater
Rolling pin
Cookie cutter/beaker
Baking sheet (baking paper optional)
Palette knife
Ingredients needed:
8oz self raising flour
1 pinch salt
1 pinch pepper
1 tsp baking powder
2oz butter/margarine cut into cubes
2oz (or more) grated cheddar
3fl oz milk
And here's how we did it:
1. Sift the flour, salt, pepper and baking powder into a bowl. Rub the butter/margarine into the dry mixture using fingertips.
2. Stir in the grated cheese (expertly grated by D) and then add the milk a little at a time. Mix through with the palette knife until the dough starts to stick together.
3. Press the dough together with your fingers, either form into rough shapes or roll out with a (floured) rolling pin on a floured surface to around 2cm thick and cut with a cookie cutter/upturned beaker. D found the plastic beaker far easier to use.
4. Arrange on a greased/lined baking sheet, brush the dough with some milk on the top to get a sheen once cooked and bake for 10-15 minutes at gas mark 4/200c/400f until risen and golden brown.

D fashioned a flower-shaped scone with some left over dough too.

5. Once cooked, resist until they're cool and then enjoy, with or without a filling.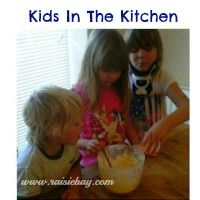 ---
---