D and I have had a bit of a girlie day today, whilst the menfolk were at football. Our day has involved the Deep Dark Wood, some baking and some kitchen dancing – perfect!
Earlier on in the week, we all went blackberry picking, things got a tad competitive and D and I decided to return today, especially as the DDW had loads of blackberries that would be ripe within a few days.
This was earlier in the week (and much sunnier):
Today was just D and I and we found absolutely loads!

(You can see from the fencing behind D that the developments are going to be very close to the DDW, but hopefully as it's a public bridleway, they'll leave this little bit of secluded nature – and the pond – alone)
We timed it more-or-less perfectly as, as soon as we got back, the rain started and carried on.
Time for some baking with the blackberries then, I had found a recipe for raspberry and apple crumble squares and decided to adapt with the 700g of blackberries we'd picked.
Blackberry crumble squares:
Equipment needed:
Weighing scales
2 x bowls
Spatula
Fork/whisk
Lining paper
Oblong cake tin (size suggested 20x30cm)
bowl for soaking blackberries
Ingredients:
blackberries or equivalent fruit (the recipe said 200g plus an apple, but we'd picked 700g so that's what we used)
100g butter, softened
175g light brown sugar
1 egg
280g self-raising flour
125ml milk
For the crumble topping
50g butter, diced
85g self-raising flour
100g light brown sugar
And here's how we did it:
Firstly, soak your blackberries in a bowl of water, this will enable any leaves/bits/fruit worms (!) to float to the top.
Preheat oven to 180C/160C fan/gas 4 and line your cake tin with lining paper.
Add the crumble topping ingredients to a bowl and rub together until they resemble breadcrumbs. D did this for me and she really enjoyed it.

Put the crumble topping to one side.
Now for the bottom of the squares:
Beat the butter and sugar in a large bowl until creamed, then gradually add the egg.
Add the flour and milk, and continue to beat/whisk until everything is combined.
Rinse and divide the washed blackberries into two. Incorporate half of them into the mixture and spoon into the tin, smooth the surface, then add the remaining blackberries over the top.

Sprinkle over the crumble topping and bake for 45 mins or until a skewer inserted comes out clean, and the topping is golden (mine took closer to an hour).

Enjoy some kitchen dancing whilst it's cooking, not obligatory but a lot of fun.
Leave the finished (yummy) product to cool, then slice into squares.
Perfect on it's own but Mr Bluecrisps reckons it would be lovely with custard too.
Really nice to have D as a kitchen helper and using very local fruit.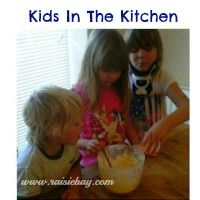 ---
---