This week's recipe is one that I've seen in variation on so many blogs, but wanted to try it for ourselves.
It took a while to track down the book I got the recipe from, but it was worth the wait, it's packed full of speedy, but tasty looking recipes.
I didn't take any pictures during cooking as I wanted to see if we could prepare and bake them in 30 minutes, as the book title suggests. And we did!
This is the finished product:
Here's how we made them:
Baked Doughnuts:
Equipment needed:
Either 6-hole doughnut or muffin tin
Mixing bowl
Smaller bowl for egg/milk etc
Whisk
Wooden spoon
Sieve
Piping bag and nozzle) optional but it definitely makes it easier
Ingredients:
4oz self raising flour
1/2 teaspoon baking powder
2.5oz caster sugar
1 teaspoon ground mixed spice
2.5 fl oz milk
1 egg, beaten
1/2 teaspoon vanilla extract
1oz melted butter (plus extra for greasing the tin)
Sugar coating:
2 tablespoon caster sugar
1 teaspoon ground mixed spice
(We used sprinkles)
And here's how we did it:
Grease your doughnut/muffin tin and preheat oven to 190c/375f/gas mark 5.
Sift together the flour and baking powder into a bowl, stir in the sugar and mixed spice.
In another bowl, combine the milk, egg, vanilla extract and melted butter. Make a well in the centre of the flour mixture and add in the milk mixture. Mix (or whisk) until smooth.
Spoon the mixture into a piping bag – fitted with a plain nozzle – and then pipe the mixture into the holes in the greased tin. Each hole should be 2/3 full (I didn't use a piping bag and should have. It got messy!)
Bake in the pre-heated oven for 12-14 minutes until risen, golden and firm to the touch. Leave them to cool for 2-3 minutes in tin before easing them out.
On a large plate, combine the sugar and spice mixture (or the sprinkles) and then coat the doughnuts by gently pressing down.
Lovely when they're warm and equally nice as cold.
They had the doughnut taste without the fried taste and went down very well.
Linking this up with Kids In The Kitchen with @okesanne, we tried out her carrot cake recipe last week and it was fab!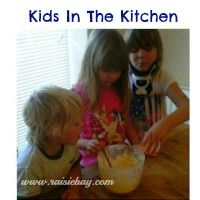 ---
---