Another week has whizzed by and it's time to think of a word to sum it up, with some Reasons To Be Cheerful in true multi-tasking style.
It's not so much one word for this week, as two:
It's something I've found myself saying yesterday and today and here's why:
1. Tetchy times
We had a very tetchy start to the week, T in particular is getting frustrated that the end of term isn't sooner. Whilst for D, the closer the end of term gets, the more "fun" her SN school becomes; for T, it's all a bit out of routine and one thing he does like is a routine.
So, Monday through to Wednesday, my week would have been summed up as "tetchy" but yesterday and today have seen a happier, calmer, more tolerant T and that definitely is better.
2. Decluttering
Oh yes indeedy, me and a hippobag have got very closely acquainted this week.
It's been a good sort-out of the garage and the loft, lots of breaking up of old furniture, ride on toys that have seen better days, battered buggies from childminding days and drying out of paint tins from Hubbie's work.
I'm ashamed to say that this was my poor back garden before I started filling the bag, I'd put everything in a central place out of the loft and garage as I didn't want to leave the house or anything unlocked before I started.
Somewhere underneath all that was the children's climbing frame….
One extremely warm day, lots of songs shuffled on my phone and a "bit" of sweat later, this was definitely better.
What I absolutely love about using Hippobags (not a sponsored post!) is that up to 90% of what is put in is recycled, I am a bit of a one for recycling. Someone at hippobag hand sifts through and sorts out plastic/wood/paper/metal etc etc.
3. No more headaches!
This is a bit of a "doh" reason but, over the past few weeks, I've had a lot of stress-type headaches. I put them down to the school appeal and the fact that parenting our lovely children can be tough going at times but…did wonder if they were something more.
It turned out to be a very simple solution. I have glasses and sunglasses for distance and don't need glasses for reading. Because the weather has been so good, I've worn sunglasses when out and shoved them on top of my head when indoors anywhere. Silly me didn't think that this would be putting a strain onto already quite tired eyes. Lightbulb moment this week = both pairs out and about, changing when necessary and therefore a happier head. Simple but effective and a relief that it could be so easily remedied.
4. Friday night tea
We all enjoy our chippie tea on a Friday, a chance to talk about our Best and Worst bits of the week, T added in a new category tonight, that of Funniest. A happy family tea. A good end to what has been a busy, but productive week.
Next week will see Proms week at D's school, always a wonderful sight seeing all those SN children who, in another setting, would be absolutely anxiety-ridden at the thought of stepping onto a stage and performing. It's usually tear-inducing (proud tears) and extremely humbling. I can't wait!
What word would sum up your week best?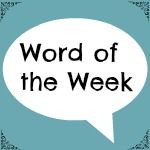 ---
---