This week has rushed by again, with Proms performances in D's school, an introductory meeting for upcoming year 7's in T's secondary school from September, the various after school clubs and just generally dashing around that occurs.
But, to sum up our week in one word, it would have to be:
And here's why:
Monday saw the first Proms Performance by D's class which was fantastic. D's school has a week-long Proms annually with every class performing once or twice, either playing an instrument or singing. Local schools are also invited in to perform and it's a chance for mainstream pupils to experience a SN environment, which is can only be a good thing for acceptance and tolerance of physical and "invisible" disabilities.
This was D singing her solo verse of "There Ain't Nobody Here But Us Chickens":
Fantastic when you consider that in mainstream D could not participate in any assemblies or productions and sometimes couldn't even enter a classroom environment.
Today saw another performance too, three classes singing Price Tag by Jessie J. Something that D has been singing at home for weeks, which shows how much preparation has gone into today. I'm not able to share the video I took but…below is D singing Price Tag at home.
She loves singing and occasionally when she's "zoned out", I'll sing what I'd like to say/ask her and she'll giggle and answer, it always works!
I like a bit of a song too, my walk back after dropping T then D off and vice versa in the afternoon is through here:
And it's then that the ear worms get put in and a song is played. Occasionally I'll sing along (if there's no one around, I'm chicken like that) and it's quite a freeeeeeeee feeling!
So, that's my week in a word, what would be yours?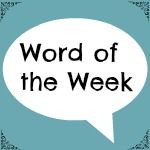 ---
---