I'm having a bit of a multi-task as D has an ear ache so there may not be a blog-focus tonight/tomorrow.
Fortunately "ache" is not a word that would sum up our week, instead it would be:
And here's why (the #R2BC bit):
1. A new haircut
Now, I'm normally a trim-my-fringe gal, going to the hairdressers seems a bit of an expense but it's something I decided to do before the school holidays and …voila!
These pictures were immediately afterwards, a bit "80's throwback", by Tuesday it was a bit more me, a bit more "ping!!"
It's quite funny not having a "bob" anymore, every day brings a different style. I like it.
2. Uniform
I went and got T's new secondary school uniform earlier this week. It's slightly vexing that they insist on so many branded items and the shop is one that caters for many of the schools, you could spend a small fortune in there but…at least I'm not buying uniform for a school that wasn't our first choice, one that T would have left as soon as a space became available at our first choice (so relieved still, that we appealed).
T is still extremely positive about it all, he's had a look through the uniform and wanted to start using his new school bag straight away, which is great.
3. New glasses
I also wanted to get an eye test booked in before the school holidays and that happened today. Yes, as I suspected, I need a new prescription, which will undoubtedly help with my recent headaches. Time to save the pennies…
4. New experience
Today, as part of T's end of primary school sessions, the school arranged for Stomp to put on a performance of what they've been doing with the children.
It was extremely noisy but great! Lots of tempo used for making music and beats from metal dustbins, water cooler bottles, plungers and all sorts! Very interactive, very fast paced and all the children seemed to really enjoy it.
The instructors were very engaging with the children too, encouraging them whilst they bashed away on dustbins with drumsticks (as you do).
Really good fun. It was fab to see all the children enjoying themselves, counting each other in with the beat and smiling away.
5. New class
D is now aware who her new teacher is but we don't know which of her friends will be with her yet or where her classroom will be. This has caused a bit of angst from D over the last couple of days and it's still continuing, along with her ear ache. Hopefully we'll get further clarification soon but it's good to start at least mentioning her new teacher's name in our chats.
I think that's quite enough "new-ness" for one week, what word would sum up your week?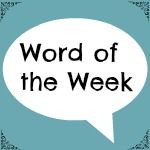 ---
---