One of the things on my "to do" list for the summer holidays is to get T and D more involved in baking.
They both have sensory issues around food and it is quite difficult to get them to try new foods.
We have quite a few fruit varieties growing in the garden this year and Grandad always grows a fair few veggies so it's also an opportunity to highlight the growing cycle of food, that not everything is delivered in a Sainsburys crate/picked off the shelf in a supermarket.
Hubbie has recently been working for a lady he's worked for previously (he's a painter) and he always mentions my blog to customers. He mentioned to this lady that I have been sent some boxes of All Bran (for an upcoming review) and she gave him this recipe to bring home.
We've tried it out today and it tasted just great, full of those "feel good" ingredients too. All the measurements were in mug quantities so very easy for D to follow.
I've named it after Hubbie's customer:
Mrs E's bran loaf:
Equipment needed:
large mixing bowl
mug
wooden spoon or spatula
loaf baking tin
liners for baking tin
Ingredients:
1 mug of All Bran
1 mug of dried fruit (we used sultanas)
1 mug of milk
1 mug of brown sugar
1 mug of self raising flour
We were sent three different varieties of All Bran but choose to use this one today:
Firstly, combine the mug quantities of All Bran, dried fruit, milk and sugar in your bowl. Give it a good stir to get the liquid distributed and then put the bowl in the fridge to soak for at least an hour.
You'll see from the picture above that the liquid has soaked into the All Bran and everything looks a bit plump. Time for another stirring before the flour is added.

Add in the flour and stir again, the mixture will feel heavy and this is when I needed to take over from D to ensure the flour was mixed in.
Preheat your oven to gas mark 5/190 degrees.
Making sure your loaf tin has a liner in, add the mixture in. It's too heavy a mixture to pour in, so use spoons to dollop it in. Don't worry too much about making a smooth finish as the mixture will rise once cooking.
Pop it into the over for 1 1/4 hours.

Once cooked, allow to cool, slice and then enjoy.
D really enjoyed the mixing and the end result. I like the fact that this recipe can be either doubled-up to make extra for the freezer or adjusted, as we did with only using half the sugar as I felt there was enough sugar in the All Bran and the sultanas.
It's something that's extremely easy to make and tastes great. When we're out and about for picnics/snacks, it can be wrapped in foil and taken with us. I personally don't think it needs anything added to it in the form of butter/marg or jam either and it's a good way to getting some bran and fruit into little tummies.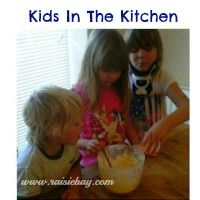 Linking this up with Kids In The Kitchen at raisiebay.com, next week we'll be getting busy with bananas!
---
---