Thank goodness it's nearly Friday! It's been a week that can be summed up in one word:
And here's why:
1. Leg, darn leg
I've not been well for a week now. Last Thursday I had the (very) familiar aches in my bones and extremes of temperature which said to me that something nasty was on the way. Cellulitis to be precise.
This isn't cellulite but a horrible skin infection, usually arising from a bite or bacteria and reoccurring without warning at any time.
In my case, it was an series of insect bites in one spot, whilst T was in his first year. At it's worst (and I'm not kidding), it flared up 6 days before D was born (I'd fallen up our back step and grazed my leg) and they couldn't give me any anti-biotics until she was born. She arrived early (thankfully) and I was immediately given a course of anti-biotics. I was, at one point, 48 hours away from possible septicaemia and ..well, that could have led on to losing my leg. A bit serious if those really yucky tasting tablets aren't available.
So, when those all too familiar symptoms started, I knew I needed to take some tablets. I always keep a supply at home, about 3 days worth, enough to start treating it and then it's a case of getting some more from the doctor.
Then the fun started. Prescription requested on Friday and refused, I only found out this on Monday (by now any tablets I had were used and feeling really rubbish). Doctor's phone call booked in for Monday/Tuesday which never came, it turned out they didn't arrive for surgery. I had to chase to found this out. No appointments available. Further telephone call booked for Wednesday.
Unbelievable when you consider that they have access to my records and can see that it's needed and why. I went in Monday and Tuesday, stood there and asked to see someone. Nothing available. We're now at Tuesday afternoon and I took the last tablet on Sunday evening.
Wednesday came and finally a doctor phoned. She was lovely. Immediately said she'd get a double dose organised, one to start immediately, one to have at home for next time. Got told it would be available that afternoon.
So, immense relief. Except it wasn't ready that afternoon. We had to wait. Me, Hubbie and D as T was playing football with his friends.
Finally, we have the slip of paper, off to the pharmacy. And this is where number 2 starts…
2. A complete waste of NHS funds
As we were waiting for my anti-biotics, we knew we could collect D's next injection at the same time (had been told it was there).
Remember how hot it's been this week? D's injection package has to be kept in a fridge, it's clearly marked as so and has a blooming great big label on it.
Except the pharmacy hadn't done that. They'd left it on the shelf with her creams in a bag, which is why they couldn't immediately find it.
Eventually they did and then they had to phone to check if it would be okay, having been out of the fridge for hours. It wasn't. That's £100 wasted, we get told exactly how much each injection is worth every time we see the consultant at the hospital. And obviously it's had to be ordered in again. Another trip to collect tomorrow with my poorly leg.
This "frustration" theme continues…
3. Sensitivity and insensitivity
Both T and D have allergies to the adhesive in plasters. Even the hypoallergenic ones.
It causes horrendous reactions in the form of weeping, oozing blisters where the adhesive has been in contact with skin, these last far longer than any actual original wound.
So, they both had little cases of gauze, medical tape and bandages in school, with instructions that they should not have plasters.
This has worked fine in D's SN school but T'a mainstream hadn't been accepting of it, they even told him that they didn't believe he had an allergy!
Anyway….T had a nasty wound from the playground on Friday and school refused to dress it because there weren't any plasters in his case. Umm hello?!? So, he spent the last few days at school with a bandage administered at home each morning and, with some TLC, it's getting better.
Oh, that and the fact that another child has been threatening to punch T on a few occasions and school had done nothing to either defuse the situation or explain to said child that this really wasn't nice behaviour. It's not just T, a lot of children were threatened. Even on their last afternoon. Nice way to end primary school isn't it?
Now, that's why this week has been a frustrating one, a "good grief, can't people show some compassion and initiative" kind of one.
We need some Reasons To Be Cheerful now, don't we?
It would have to be these:
They are horrible to take and there's always a "you feel worse before you start to feel better", but I have them and some more for next time.
And it's the school holidays, no school runs for six weeks. It means that we can do some baking, have cuddles, make some happy memories and just relax a bit. Let me get this leg better first.
What word sums up your week? I'm aiming for a more positive one next week!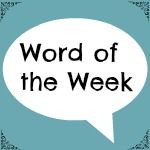 ---