This first full week of the school holidays has gone so quickly, I hope the next five or so slow down a bit. But, such lovely weather!
My word for this week could have been "Sunshine" (there's certainly been plenty of that) or "Bob" as this little visitor to the pool was christened:
But, after a bit of an online shopping mix-up, I thought I'd ordered just a few, but no, bags of them were delivered. Not ones that needed to ripen, nope, ones that were already ripe, my word has to be:
Oh yes, we do like them in this house. They are a nice, healthy portable snack but the prospect of an extremely over-flowing fruit bowl had been greeting me ever since the shopping was packed away (and the driver hands it over so fast, don't they, there's no real chance to check, you just have to believe what's on that receipt).
Anyway…I've been baking to use them up, there's been some lovely smells wafting around this week:
And a Banana French bread pudding, which I haven't blogged how to do yet, but will:

Not forgetting our Fruit Pops either.
So, there's been a definite baking theme, I don't like to waste food and the freezer is nicely full of goodies, I think even the guinea pigs would have baulked at excessive banana treats too.
We were just starting to see the bottom of the fruit bowl when Mr Bluecrisps came home with a couple of bits I'd asked him to pick up and…wait for it…you've guessed it…more bananas!!!
It's also been a bit of a week because T's football manager has offloaded a ton of player registration work that he couldn't be bothered to do didn't have time to do before he went on holiday. Offloaded with a deadline of two days later. So, it's been a bit of a bananas (as in, aaaargh!) few days too! Emails flying around, people turning up with forms, birth certificates etc.
So, what word sums up your week and banana anyone?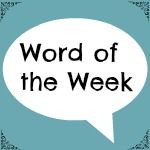 ---
---