It's been another busy one in the Bluecrisps household, but there has been an underlying theme:

It was lovely to meet bloggers at the BIBs last Friday and yes, there were hugs! I wasn't sure what to expect, it being the first time I'd been to any blogger event, but it was fab.
I regretted not staying on a bit afterwards but the big hugs when I got home made up for the journey.
T had his induction day at secondary school this week and seemed really positive about it, which was brilliant. He was quite unusually (for T) cuddly too. He will normally accept a hug but very infrequently instigate them. They are very much on his terms.
D has been as cuddly, squeezable hugging as ever. She is extremely demonstrative of her feelings and, if she's had a good day at school, I'll practically get knocked down with her enthusiasm for an end-of-school-day hug.
And Mr Bluecrisps…we might not hug much as we used to, but it's nice when we do.
What word would sum up your week?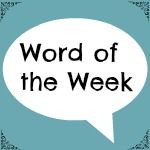 ---
---