This week's little "You Are My Sunshine" comes from a discussion I was having with D about her next injection, due on Monday.
She understandably finds them stressful and painful and I can't "sugar coat" it and tell her it won't hurt, because it will.
We were remembering when she had her first injection, in the treatment room at the hospital. D was extremely nervous and the three nurses and I were thinking of ways to calm her a bit and distract her.
One of the nurses asked her what songs she liked and D answered The Duck Song (click here for the video) and we all started singing it, staff, D and I. It was a nice distraction from why we were there and it relaxed D enough to comply (ish) with what was about to happen.
We sometimes sing that song on the school run too and it always makes D smile.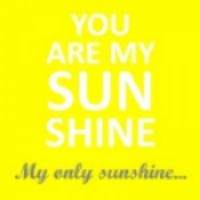 Hopefully the song will work its happy magic on Monday again.
---
---