We all look forward to our Friday night meal for different reasons:
D because it's her favourite meal, she always wakes up excited about it on a Friday morning and she gets to go and collect it with Hubbie. Usually she'll be given a fortune cookie in the fish and chip shop too and can't wait to tell me what it says.
T because he likes chips, they're practically the only warm food he'll eat
And
Hubbie and I because it's a meal we can all eat together. A rarity with our two children with their differing likes and dislikes.
It's also a time when we all chat say our best and worst bits of the week. For D, it's been a challenging week starting with her injection and finishing with a cold; for T, it was another week when the weather has affected the sports that he enjoys so much and for Hubbie and I, a week where our garden took a battering. But we were all there, enjoying our "big meal" as D calls it and thankful we've got through the week.
A definite "Sunshine" moment and a bit of a Magic one too.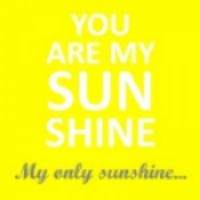 ---
---