I had a pale, lacklustre D at home with me today, a combination of a cold and her emotional week had caught up with her.
By 11am she was extremely cuddly and definitely not herself, so any thoughts that she may have been okay at school were quickly discounted. They actively encourage the staying-home of pupils with coughs and colds as they spread so quickly around the SN classrooms.
Poor D takes things extremely literally, she has a birthday party to go to tomorrow and I had said in passing that she would need an extremely good night's sleep to try and rejuvenate. This was at 3.30pm and next thing I knew D had zoomed upstairs to go to bed, protesting that she hadn't had tea!
She has been accepting calpol (so must be feeling rough) and the Spilly Spoon we reviewed back in September 2012 is definitely proving to be the best way to get it down here.
T has had a good end to the week, despite his games obviously being off tomorrow. He did have a "moment" after school when we were waiting in the wrong place (despite me having said to him we would be), he definitely craves the routine.
So, the end of a very challenging week is looming, I hope everyone's had a good day, comments/RTs/shares as ever welcomed, thanks for reading.
The "You Are My Sunshine" linky will be up tomorrow morning for positivity and happy moments/images/posts to be linked. Here is the badge and code, everyone welcome to spread some happiness: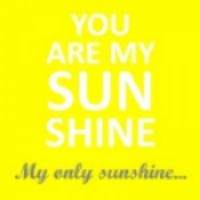 ---
---