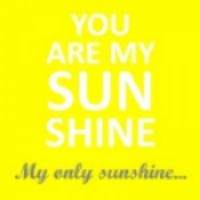 Welcome to You Are My Sunshine, a weekly linky for spreading a little (or a lot) of positivity.
Sometimes it's nice to focus on the positives, the glass half full, rather than glass empty. It's a chance to think about something that's really made my day during the week and would love people to join in. It will go live on a Saturday and remain open until the
following Friday.
It could be something that one of the children have done, a random act of unexpected kindness or a surprise in the post. Something that's brightened up my day and made me think "wow,
you are my sunshine".
My little ray of sunshine this week has been this image:
D enjoying the trampoline that, combined with filling a HippoBag, took three of my fingernails (right down to the nail bed – ouchie) and a badly cut thumb. They are going to take months to grow out but, seeing D bouncing and enjoying what is a fantastically safe trampoline has made it worthwhile.
I would love people to link up and join in, there is a badge code above and I will comment on and tweet out all links. Please take a couple of moments to visit other posts too, I know it would be appreciated.
Here's the link, I'm looking forward to reading, commenting and sharing posts Jx
---
---