Today was pootling along quite nicely, D in her onesie having a snuggly day. Accompanied by a cat seeking cuddles too.
T and Hubbie were at football training this morning and a match this pm, so D was able to take advantage of that and have a go at Skylanders Giants. She enjoys playing that on her own terms, with her preferred (girlie) Skylanders.
It was all going really well until the unexpected happened…Bunny got (very) dirty and had to have a spell in the washing machine.
There were wails and moans from D and she was camped out looking for Bunny in the machine as the wash cycle spun, gaining comfort if she saw an occasional arm or leg.
It was a relief when they were reunited but a reminder that, to an autistic child, an unexpected event – however minor it may seem to anyone else – can really throw them off kilter.
A little image I found which made me smile:
I started a new weekly linky on the blog today – click here for the link – it's called "You Are My Sunshine" and for those little positive, happy-mood-making moments. Anyone can link up with their posts and here is the badge.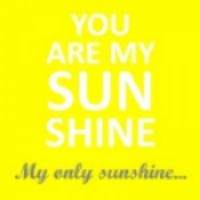 I hope everyone's day has gone well, comments/RTs/shares as ever welcomed, thanks for reading Jx
---
---