I like thinking about a word to sum up my week, as per The Reading Residence's linky.
My word was originally going to be "huff" as I've not been experiencing good customer service this week. From both stores where you'd kind of expect it not to be great (A*gos) and stores where you definitely wouldn't (Waitr*se).
I'd always worked in a customer-facing environment before I elected to stay at home with T and D and there were courses run by the company primarily aimed at giving good customer service. In my role as Director's PA, there were many instances where it was important that the customer's needs were met promptly, whether that be another department, a member of the public or in liaison, the emphasis was on being courteous, even if internally you're thinking "grrrr!".
Anyway, I've decided to think positive (because that is the best way for me) and my word is….*drumroll*:
Quite simply, paint is very important to our family. Hubbie is a self-employed painter/decorator so paint is his livelihood. During the winter months, his jobs consist of interior work and in the spring, summer and maybe autumn, he'll be using exterior paint and woodstain. It's all usually pretty neutral colours – magnolia and various other white (ish) shades which we've avoided in our house, with its lilac-y lounge, green hall and blue kitchen.
He obviously has customers which I have to liaise with too, ex PA skills coming in handy.
Paint is also how we met. I was working at the next desk to Hubbie's sister and she'd never mentioned to me his existence until, during chit-chat, I was bemoaning the fact that I'd started painting the outside of my house (in blue) and my fear of heights had taken over. She said she'd ask him to quote, he did and arrived one Saturday with a little man arriving to hold the ladder (who became my father-in-law) and the rest is history!!
There is a saying that "the shoemaker's children always have holes in their shoes) and it's true, the last thing Hubbie wants to do when he gets home is more painting. Kind of an unfunny busman's holiday.
Paint can also instantly transform a surface. D has the airing cupboard in her room and I decided this week to make the most of the space and use this:
To turn the door into a chalkboard wall. I didn't know until I looked online that chalkboard paint came in such great colours but it does and D is overjoyed!
Next step will be repainting an old table and giving it a new lease of life.
Paint can really transform items and it totally transformed mine and Hubbie's lives on 30th May 2000 too!!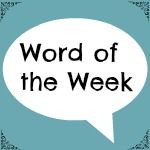 ---
---