It's a been a busy week this last week, a week of getting things done.
My word therefore, and linking up with The Reading Residence, is:
The under-the-stairs wall in our house is a blackboard wall, when the children were smaller it meant that we had no drawing on the walls because they knew they could chalk on that one, now they're bigger, it's a reminder wall. A wall where I can chalk lists and things to do.
At the start of the year, I scribbled a few things on there, things I wanted to get done in the house and gardens. In other words, Goals.
This last week, I've managed to tick a few Goals off:
1. A hippobag was filled, I like using these because they're cheaper than a skip and they aim to recycle 90% of what's put in. I filled it in between rain showers and got extremely muddy but….tick!
2. Our 13ft trampoline has been replaced by a 10ft one. This has freed up some garden space and is an enclosed one where the springs are completely covered and away from the bouncer. Again, dismantling the old one and assembling the new one made me resemble a mud wrestler but it's done and well in advance of the February half term….tick!
3. D has been on some totally daily yucky tablets and when they were first prescribed – back in December – a 60 day course seemed a long way off. They finish a week Friday and were an absolute battle to administer at first, but she can see that there aren't too many left….tick (and a big *yay*!)!
It's felt good to cross a few things off my list, there is still quite a bit on there but I've got all year…
A Goal for my football-loving T would be to actually play a team game soon, his games are being constantly called off due to the weather and it's frustrating him (another reason for getting the trampoline done).
My word was from the picture above in T's room and it's so appropriate.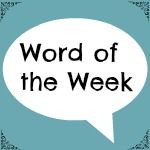 Looking forward to reading some of the other posts linked up, another Goal but one that is definitely preferable to a mud-fest!
---
---