This week has whizzed by and I can't quite believe it's Thursday already and time for Reasons To Be Cheerful with Ojo's World again. It's good though, a chance to get away from the lists and think positively.
So, what's making me happy this week?
1. The children have both had their final Christmas carol concerts. Neither were particularly comfortable participating but they did it. Audible and very visual signs of relief from T when his was over.
2. D had her last injection of this year this morning. She wriggled around like a long fish before and during and was really quite grumpy afterwards but it's done, no more until January 2nd.
3. I managed to make a blog badge at the weekend, I'm not the most technical person and I got a few bits wrong at first. But I was pleased with the end result.
4. There was some lovely Christmas spirit in town on Monday, people sharing their discount vouchers in M&S, it was nice to see.
5. This picture and post are my main smiley thing this week. T and D helping each other with Minecraft, they very rarely like sitting next to each other so this is a definite rarity!
I hope everyone has a lovely Christmas, we're all having a onesie one and I'm really looking forward to snuggling up with my family and being thankful.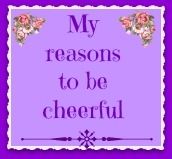 This is the Christmas one!! This one runs out next week………on Christmas Day!!
---
---