One, Two.
Come on my pair of pickles, I love you.
Three, Four.
Time to rush out the door.
Five, Six.
Off to school, hope the lessons are a good mix.
Seven, Eight.
Phew! We're not late.
Nine, Ten.
Kiss, hug, off you go then.
Eleven, Twelve.
Kids in their schools, I'm off to delve
(Into the delights of a food shop)
Thirteen, Fourteen.
All done, time for a mocha, no caffeine.
Fifteen, Sixteen.
Blog time at my little screen.
Seventeen, Eighteen.
Home. Housework and no rest for the washing machine.
Nineteen, Twenty.
School run time, we've done plenty,
Twenty one, Twenty two.
Schools out, a hug, snack time and "how was school for you?"
Twenty three, Twenty four.
Home, sweet home, through our front door.
Linking up our Day In Numbers at @vicwelton's Prose4T here.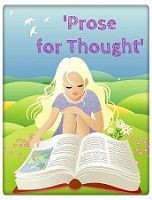 ---
---