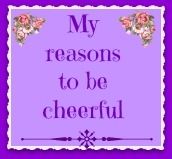 I'm linking up with Ojo's World and there is one major thing that's making me cheerful today:
D and Bunny were reunited yesterday, after 8 days (and loooong nights apart). It's a bit of a mystery where Bunny has been – post here – but her return has brought a smile back to D's face.
Here's a few more:
1. We went to see D's nativity performance on Tuesday – post here – and it was lovely to see all the SN children singing and smiling. A hall full of very proud parents and grandparents too. Total thanks and admiration to the staff who soothed nerves and gently coaxed them, they all looked very relieved when it was finished.
2. I've been at home today, putting up some outdoor decorations which the children will get excited about when they see. It's meant that I've been around to take delivery of a couple of parcels. D's main Christmas present had a strange journey to us at the weekend and it was thanks to a stranger that it turned up at all.
3. D's hospital appointment last Friday was drawn out and traumatic for her, blood tests (with numbing cream) and a painful injection (without). But we all agreed a way forward that's in her best interests and I'm thankful for that.
4. I had a technical problem on the blog, one of the plug-ins had disrupted everything. The old J would send an email to someone saying "puuuuurrlease can you sort it out for me?", the new slightly more confident J sorted it out (but was nervous all the way through). It's done though and by me!!
Those are my reasons this week, thanks to Ojo for hosting Jx
---
---