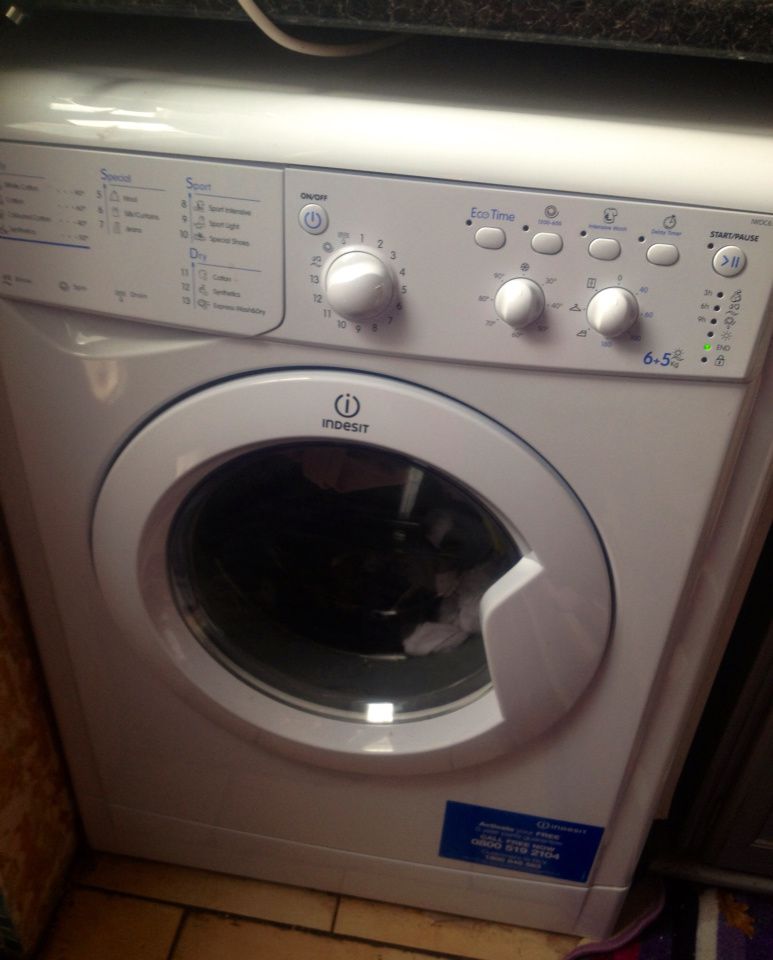 There it is, the appliance that sits in the corner of my kitchen (which was why it was difficult to get a straight picture), a completely necessary appliance for a busy household.
I didn't realise quite how necessary until the old machine broke down and we were washing machine-less for nearly three months. Fortunately this was during the spring/summer months when drying time (for at least part of the day) was possible.
I blogged about my joy at having a working washing machine again here http://www.autismmumma.com/magicmoments-this-just-this
And it was a renewed joy, the thought of loading the machine, pressing a few buttons and walking away was wonderful. Previously it was a case of loading up the sink, trying to hand wash everything (yes, including Hubbie's smalls) and then trying to rinse and get as much water out as possible before transferring it all to the line. My skin suffered on my hands, my nails became fragile and my temper – drying towels and bedding that are so totally full of water you think the line will break is not an easy task. I never felt that anything was completely clean either.
It also was a realisation about how much things are taken for granted, I remember when my mum had a twin tub machine and she'd be prodding the washing with a wooden implement (almost like huge tweezers) to get it into the water. Then the transference to the other tub for spinning and rinsing, water going everywhere and she'd have to hold onto the tub whilst it spun otherwise it would potentially dance around the floor.
Fast forward a few years and my all singing, all dancing washing machine is a vital addition to the kitchen. It might do a relatively simple task in comparison to the stove that can heat/griddle/toast and plate warm but it's a must.

This blog post is my entry into the Tots100/Part Select "Love Your Appliance" competition.
More details here:
Win £250 and a clean house with PartSelect Love Your Appliance Competition | Tots 100
What does your typical day look like? For me, I start each morning with one of those alarm clocks that's supposed to wake you up gradually by simulating day-break (doesn't work, every morning is a PTSD-inducing shock to the system). Then it's downstairs for coffee from my beloved coffee machine, and some Marmite on Toast from the toaster.
http://www.tots100.co.uk/2013/11/13/win-a-house-clean-and-250-in-our-love-appliance-competition/
---
---