I'm extremely proud of D this week, even though she's been a complete grump-meister the past couple of mornings, growling and stomping before the school run.
It was T's birthday on Monday and, during the build-up of present and card buying, D couldn't have been more excited about it all. There was not a hint of jealousy, she seemed to accept that it was T's birthday coming up and that was that. There was no need to buy an additional present for her to open and if I had, I'll bet that she'd have looked at it, then looked as me as if I were bonkers and said "why did you buy this? It's not my birthday". She is a very literal, honest child, they both are.
D also finds hand writing a challenge and a chore, writing her "News" for school makes her moan and groan saying she's "tired". We do try to encourage her to write and hope that it will pick up eventually and she'll find her natural flow. Because she finds it such a task, it makes moments like this below very special:
This was T's birthday card, independently written by D, accompanied by a little picture (she loves drawing) and covered in kisses.
She chose the card too, T is very into potty humour and the slightest "bottom, parp" word will send him into giggles, which always lead to hiccups.
Luckily D didn't give all those kisses in person to T, he would have protested, he's not one for demonstrative emotions, unlike his sister.
That was our #SSAmazingAchievement this week, looking forward to reading some more here http://bit.ly/HvXFaL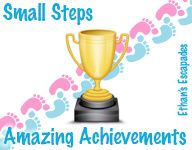 ---
---