It's quite unusual that a day will start and end with ill feeling on D's part but today has been that day.
The reason? Predominantly that T was off school today with a sore throat. D was absolutely furious at the change to routine and that he would be off and, in her mind, "messing with her stuff".
We had shouts, stomps, bolts and refusal on the school run to school and once we got there, total looks of surprise from staff as its been a long time since D entered school like that.
She was so agitated and so absolutely furious with me that she would not say goodbye to me or even look at me, just remained stony-faced as her TA talked to her. I felt like a complete stranger to her and did the "walk of shame" out of school.
In contrast and out of character, T's been quite cuddly today, his head has frequently been near my shoulder requesting cuddles, it's been nice and despite his throat, he's still managed to bombard me with facts and stats.
We set off to collect D, wondering how she'd greet us. I had pre-warned T that his sister might not be in a positive frame of mind and that was to prove right when she tried to bolt past us. It transpired that not only had she remained in a very cross mood until after a chat with her teacher but she'd also broken her plastic ring. Oh dear.
Distraction was definitely needed if we were to avoid more bolts near to a busy road and the primary school we have to go past and we found it, in the form of mole hills, loads of them. A definitely happier D by the time we got home.
And whilst she's been fragile – probably worn out emotionally – the rest of the day hasn't gone too badly (ish). Reminders of the fact it's Saturday tomorrow seem to have helped.
I hope everyone's day has gone well, comments/RTs/shares as ever welcomed, thanks for reading Jx 😘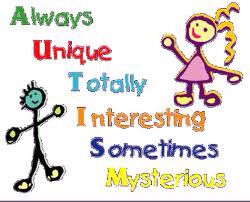 ---
---