Do I sound pleased it's half term next week? Well, maybe just a tad!
I'm feeling like this cold/flu/mutant bug thing is on its way out and just so glad it didn't hit me next week, during half term.
Yes, it will probably feel the only time I'll get any me-time will be in the bathroom (and that is not guaranteed) but the fact that we're not dashing out of the floor for school runs, in the rain, will be very welcome!
Our day didn't begin brilliantly, D had managed to "lose" Bunny in her sleep so woke up extremely upset and her frantic searching didn't produce any results. Luckily Bunny was located quickly but D is extremely reliant on her big-eared little friend.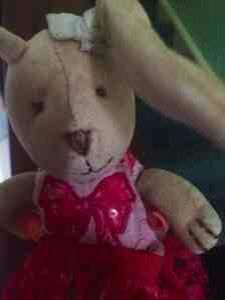 So, it was a fragile D we took to school (routine change as we didn't have to drop T off first) and D's school had an excited atmosphere about it, quite a few students were dressed in costume and these unexpected sights affected D a bit. She went up the stairs with assistance.
What have T and I done today? He will tolerate going to our local shops if we can have a good browse in the bookshop, otherwise it's a refusal. The books he looked at two days ago were all perused again, some of it is birthday hinting, a lot of it is genuine interest and a love of books. Story books, sports books, flags books, trivia books…they're all carefully looked at and commented on by T. He absorbs all the facts too, such a little mine of facts, statistics and information.
All too soon it was time to collect D and I think she'd forgotten that T would be with me, because she had a mini bolt when she saw him (change, again).
T wasn't too impressed that his sister wasn't pleased to see him and it took a bit of negotiation to both before we could continue home.
Shame really, because in D's bag was another certificate!!
I'm mega-impressed with the reasons for her getting this certificate, I have a fear of heights (D doesn't) but the way it's worded, she obviously had some anxieties at gymnastics club today..and conquered them! Well done D!
I presumed that because our home-going journey hasn't started well, it would continue like that, but once we were home and D did her routine bits and pieces, all was calm. It just goes to show that I can't predict sometimes, at all.
I hope everyone's day has gone well, comments/RTs/shares as ever welcomed, thanks for reading Jx 😘
---
---