I had to go into the branch of my bank this morning, it's not often I have to do that these days as you can do more-or-less everything online, can't you?
Pay a bill at 2am? No problem and useful if you wake up in a panic thinking "did I remember to do that?" and generally keeping track of what's going in (not much) and coming out (usually more).
I went to order my food shopping as I usually do, the same old bits and pieces. Items that only D will eat, same for T and then for us grown-ups.
The good old card verification screen came up and, I guess, because I was doing it from my phone and there was a silly pull-down screen, I accidentally typed in some wrong information.
All declined. It came up with a code and a number to call. So, I did what anyone would do, I tried again. And again, the next day. Nada, nothing.
So, I went along to see a Personal Banker and they got on the phone. There seemed to be a lot of verification needed from them to convince the person on the other end they were calling from a branch and then I got handed the receiver:
"Hello, this is xxxxx from the Fraud Office, we've had reports of some suspicious transactions"
Me: Fraud department? I was just trying to get my shopping organised and pressed the wrong button.
"You've been referred to us because you were attempting multiple transactions to a retailer. This was highlighted as suspicious"
Me: I was trying to get my food shopping *giggles at the robotic approach of the person on the other end*
"We need to go through some recent transactions, can you verify these…" And detailed the time and date of everytime I'd tried to checkout with my order.
Me: yes, I was trying to do my order, the amounts are all the same.
"Well, I'm now satisfied that these were genuine, we'll verify your card"
Me: Thank you, stifling more giggles.
Now…I can understand it if I was ordering (I don't know) hemp by the shedload, but a) I've never seen that in Sainsburys and b) me? Really?
But maybe that's how it's done, little people going under the microscope.
Anyway, D will be very pleased to know that it's all arriving tomorrow *yay*!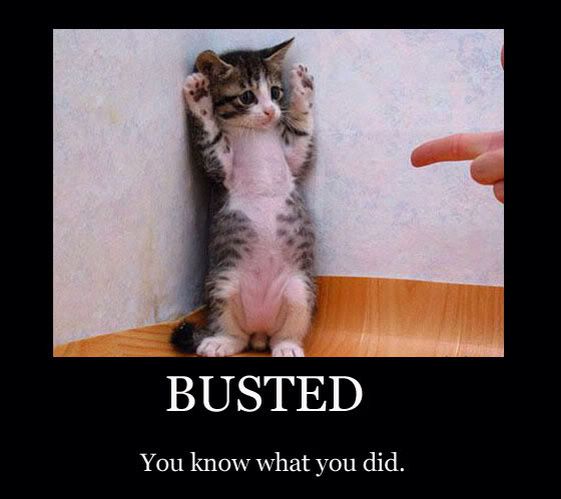 ---
---