I wasn't sure if I had a #Prose4T this week, I haven't been well all week and the general feeling of yuck has affected my creative thinking.
But then something happened this morning and I remembered just how important Bunny is to D, and a short poem flowed out: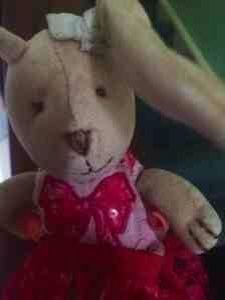 Not just a comforter, more than just a toy. Providing security when she's anxious, support in times of joy.
Faithful, loved Bunny, you definitely know your place. One twitch of your big ears brings a smile to D's face.
Bought from Mamas and Papas, just after D was born. A definite "from birth" toy, looking more than a little worn.
I looked for alternatives in case you're ever *whispers* misplaced, D glances at then and simply says "there's a toy for you now, Mumma". Quite simply you cannot be replaced.
Psst! It's me, Bunny. Don't tell her…that Mumma woman, I've snuck on because I.Am.Cross. (That's me looking cross by the way) I am D's comforter, her anxiety tool, her best toy ever. Go on, ask her who is her favourite toy and she will say me, guaranteed….
http://www.autismmumma.com/2013/03/26/bunny-takes-over-the-blog/
---