Social media is a great way to raise awareness for very good causes and when I was invited to mention Save The Children's latest campaign, I didn't hesitate.
I live three hours from the clinic. I have been staying here for three weeks in the maternal waiting home I want to thank Save the Children very much for building this place. If this place wasn't here I would have died giving birth in the bush.
It's hard to imagine not having a doctor's surgery or hospital nearby; it's something we take for granted in Britain. But for babies and their mums in Liberia, it's a completely different story. Healthcare here can be miles out of reach – some people have to walk for up to 8 hours to reach their nearest clinic. It's a terrifying journey for anyone, let alone a heavily pregnant woman or a mum with a seriously ill baby.

That's why we want to raise £500,000 to save children's lives in Liberia by building and equipping six clinics in remote areas of the country. We're determined to bring clinics closer for Liberian mothers and babies. But to achieve this, we'll need YOUR help.
The quote above says it all, doesn't it? Imagine having to walk for 8 hours, to reach medical help, we are so lucky in this Country (even though we don't always realise it).
One way to help the children in Liberia is donating directly (as per the link above), another is to purchase an item from the Mothercare Born To range:
Mothercare Group and Save the Children are committed to giving children the best chances in life. For this reason, we launched Born to Care, our global charity partnership. Together we aim to raise £1.75 million. Every child is born to shine, but too many don't get the chance.
http://www.mothercare.com/born-to-care/services-borntocare%2cdefault%2cpg.html
For every item bought, a pound is donated by Mothercare to Save The Children, the range of clothes and items covers newborn to 8 years.
We were sent a couple of items from the range and they are of the quality you'd expect from Mothercare, very good quality and washing well. At a price of £5 for a long-sleeved t-shirt and £3 for a pack of two bibs, they're good value for money.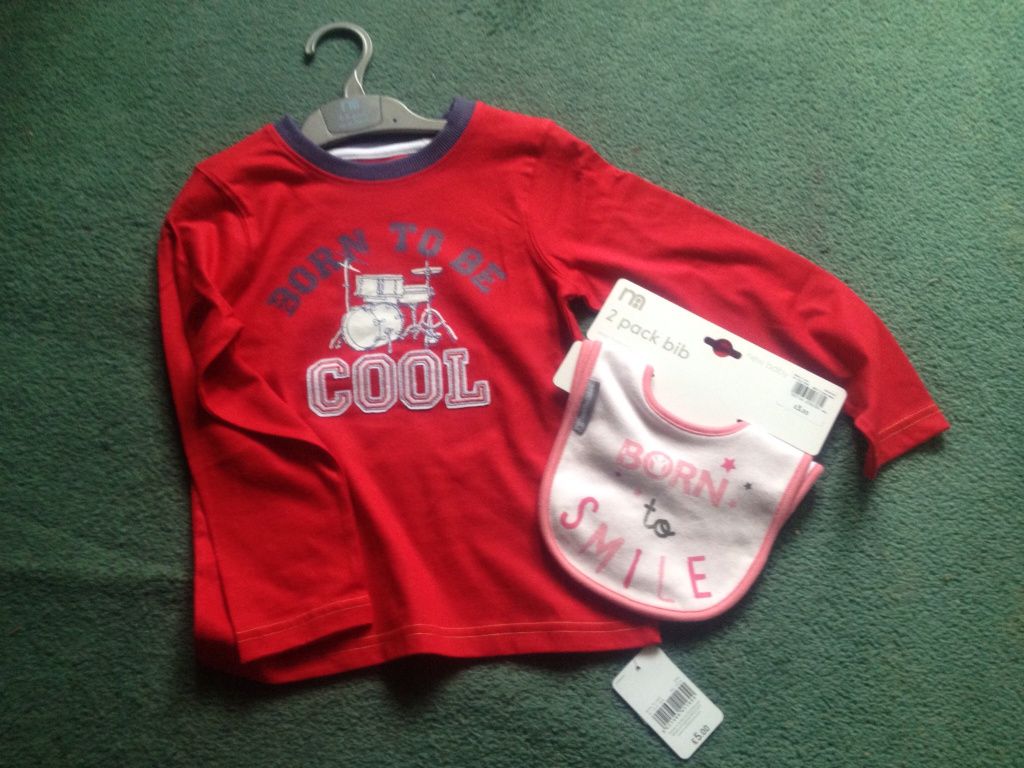 With the festive season looming, why not take a look at the range and see if there's anything for the little people in your life? Good quality, vibrant clothing and a percentage going to help Save The Children, it's a bonus.
---
---