Historically, D and calpol have not mixed well. The mere suggestion that she might need a spoonful of the stuff is enough to send her running, however ill she might be feeling.
One of the issues is the taste, it comes in strawberry or orange flavours, neither of which she likes in foodstuffs. The only drink she drinks is plain water (no squash) so there is no chance of a soluble solution, it would simply be spat out.
I have looked for a non-fruit flavoured alternative with no luck at all.
We tried out a Spilly Spoon a while back: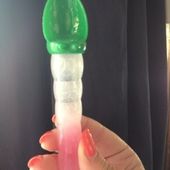 Written by bluecrisps I first saw the Spilly Spoon during an episode of Choccywoccydoodah when the chocolatiers created the most amazing butterflies and caterpillars cake for them. I decided I wanted to find out more about the spoon. The non-spill element of the spoon appealed very much to me as D is terrible at taking ad-hoc medication.
http://www.autismmumma.com/2012/09/23/spilly-spoon-product-review/
…and this was really good at administering without spilling, once the wrestling match to get her receptive for the calpol had been fought (and I don't use the word "fought" loosely!).
We've had a bit of a breakthrough this week, D is showing signs of coming down with what I've had for two weeks, she's very squeaky and has a tickly cough (that was me for the first week until …wham!.. the rest kicked in).
She was also previously prone to febrile convulsions (where her body could not regulate its temperature) so I knew that she'd need some medicine to get that temperature down quickly.
Now…whether it's because she's seen that I've been ill or whether it's because she can remember when she had flu for over three weeks two years ago and was really, really ill (I have some very pale, sad looking D photos) or something else, but she has been accepting having calpol this week! She hasn't liked it (definitely not) and it has been protested about before and after (oh yes, indeedy) but there hasn't been the chase-around-the-house-and-taking-two-to-wrestle-her-down bit. She's sat still and had the dose.
Proud of her? You bet! And grateful that hopefully (please, everything is crossed) she doesn't get ill like previously again.
I'm linking this up to #SSAmazingAchievements because, to us, it definitely is!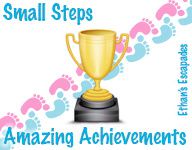 ---
---