I'm feeling a little bit battered tonight, D has been inadvertently kicking and lashing out. It's understandable as it has been a busy day.
She didn't have the flu jab this morning, but a nasal spray. I had originally requested the jab for her as I had visions of her not liking a strange nurse coming towards her, putting something up her nose and her then having to sniff. She doesn't do facial expressions above the mouth on command.
As it turned out, the nasal spray was very easy, it's not spray, more like a syringe of liquid and it's literally pointed up and released. No sniffing required. A slight dripping of the liquid afterwards, which D didn't appreciate but it was done sitting on my lap and over in a flash.
They have to check if T is "applicable" as he wasn't on their list but they are aware of his diagnosis and therefore eligibility.
I had prepared their arms with numbing cream in the event of jabs, but the only jab was in me, as their registered carer.
I had forgotten how busy our village centre gets at lunchtimes, especially when the schools are off. We normally avoid the busiest times and with reason, there were plenty of stares from other people. D is indazed by it all, she's usually sat in her buggy, quietly reading but T gets very agitated by it all.
Lunch in a quiet (ish) corner in a busy Costa and then D decided to look through her "treasures" from her take-everywhere bag of comforters and small things:
T is still inwardly burbling away with excitement over his forthcoming birthday AND his football magazines arrived on time today *yay*! He is a tad concerned for next week as there is a national postal strike next Monday, which will inevitably delay his magazines next week, he will not be a happy boy from Tuesday onwards, until they arrive.
Tomorrow brings a trip to town, which will be listed out by shops to visit and timings for T, there will be an inevitable bookshop visit, which will please them both.
Hopefully we'll find some quiet places and there won't be the lashings out of this evening. I hope everyone's had a good day, comments/RTs/shares as ever welcomed, thanks for reading Jx 😘
(Tonight's end pic comes courtesy of the cat, she's stretched out with that paw as if to say "you're going nowhere, lady!)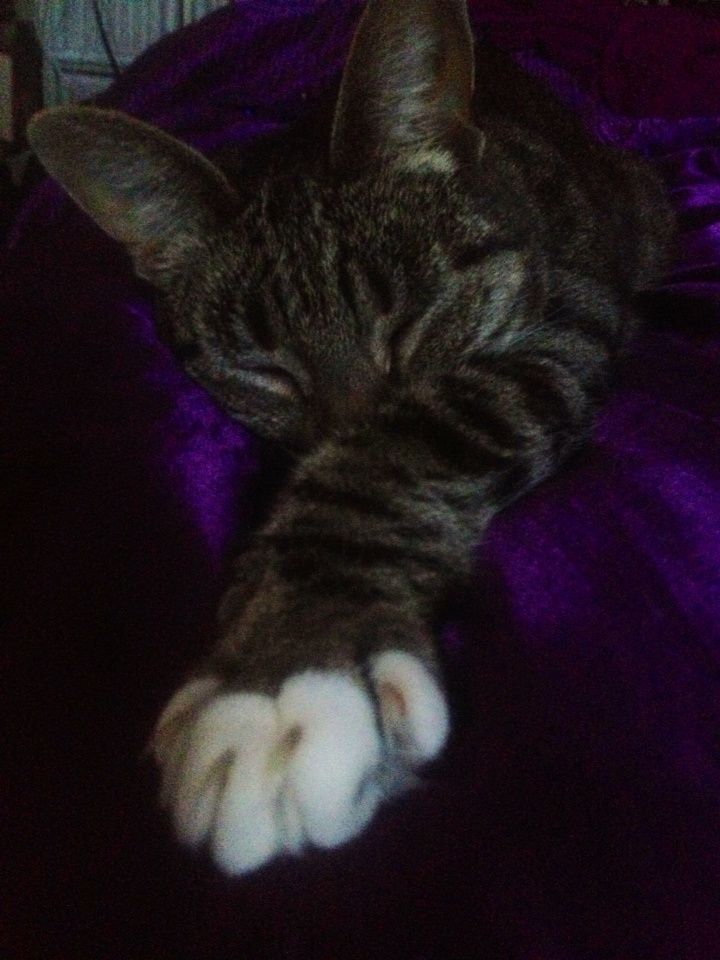 ---
---