We love family trips in the car, always a chance to see new and familiar places with the children. One of my fears (in fact, probably my biggest fear – apart from a crash) would be that D is overcome by anxieties whilst in the car and has a meltdown.
She is of a height and age where she is able to just use a booster seat but I felt that she would benefit from the close feeling that a car seat would provide. She always finds tight bear hug-type hugs and weighted products of a self-calming benefit and one of her favourite self-help measures is to wrap herself up securely in a fleecy blanket.
I asked on twitter of anyone knew of any car seats available for the older and larger child and the lovely people at Diono sent me a Monterey2 Expandable Booster seat to try out:
The seat has been awarded many awards by parenting groups so I knew we were receiving a good quality seat, it comes in a choice of three colours but D was especially pleased to receive a red one, she is very visual and there was a chance she would refuse to use the seat if it was the wrong colour.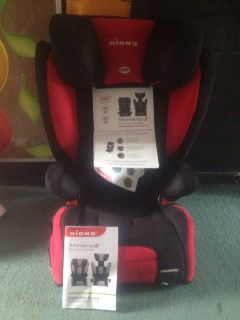 Firstly, I had to put the seat together and adjust it to fit D, this is very easily done with the instructions provided.
The back of the seat has a red dial that you turn to expand the width of the seat, it is literally as simple as that:
Similarity the height, just grasp and pull up on the red handle at the back of the back rest: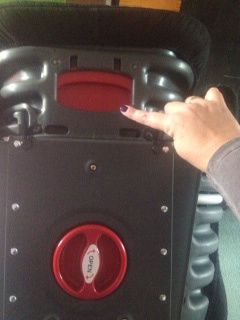 The seat also has additional secure attachments which fit at the back of the seat whilst in the car: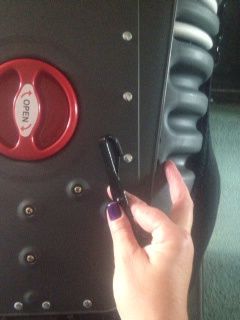 It was time to trial it out, we've used it on both short journeys (less than half an hour) and longer (between 1-2 hours) and D has loved it, both from a secure aspect and – especially – the little cup holders that swivel out from the base. They have been used to store not just her drinks bottle, but also pens and Bunny (her little carry-everywhere comforter).
For me, it's been the additional knowledge that D is safe and secure, whilst we're travelling. A massive peace of mind.
The guidelines are that it's suitable for children aged 4-11 years, weight 15-36kg and height up to 160cm.
Final words from D, she said it was "cool and cosy" and here she is, looking very happy: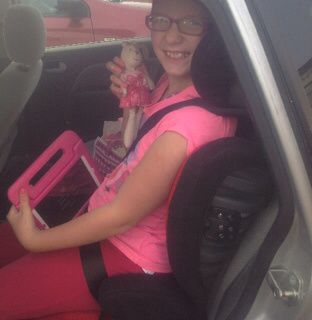 Thanks very much to the lovely people at Dinio for not only sending the seat for us to try, but providing immense peace of mind for me and security for D. All comments, pictures and views are our own.
---
---