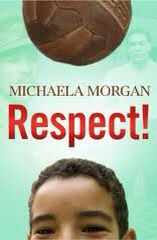 Today's choice for Bookworm Wednesday came by chance, it was a book chosen by D's teacher for her reading homework.
I found it very interesting to read the first few chapters with her.
The book is based on a true story, that of Walter Tull, an orphan sent to an East End orphanage with his brother in the late 1800's. They encountered racial prejudice until it became apparent that Walter could play football really well. A team was formed and Walter gained acceptance. He was scouted and progressed up the football league ladder until he was signed by Spurs. Unfortunately he then encountered more racism. The First World War reared its head and Walter became a soldier, eventually becoming the first black officer in the British Army.
Walter was killed in action in 1918. The descriptions of war are quite graphic but sensitive, the number of soldiers killed in a particular battle is compared to the number of attendees in a football stadium.
An ideal reading book for a child interested in soldiers, the First World War and football.
I've found an Amazon link here – http://www.amazon.co.uk/Respect-gr8reads-Michaela-Morgan/dp/1842999893.
It sounds like he encountered a lot of obstacles but achieved so much before his life being cut short. There are campaigns in place for him to be posthumously honoured, something which would be fantastic if achieved.
---
---