During the summer holidays, I had a letter from the doctor D has been seeing at CAMHS, she had her first appointment there just over a year ago.
The doctor (after discussion with D's teacher during the term) had concluded that D no longer required his services and was planning to discharge her.
Part of me wasn't suprised by this letter as D had a great school year last year, her teacher was wonderfully empathetic and her cheeky grin and way of teaching would always turn D's frown upside down.
Another part of me knew that the coming school year would be challenging for D for a variety of reasons:
Her ongoing medical appointments
Her classroom is now upstairs and parents/carers are not allowed to escort pupils upstairs
Her class mix – as well as the child that previously and is still bullying her, it is a challenging group
Couple all this with the usual mix of thoughts and anxieties of a nine year old girl with autism and there was the potential for my happy girl to be not so.
It took a half hour phone conversation but the doctor agreed not to discharge her and we have an appointment this Friday. The primary aim will be to discuss the challenges that D is facing and how she can get the confidence to tell staff as situations occur, rather than emotions building up throughout the day.
This is what has been happening for the last few days.
I wish we'd be going along to the meeting and saying "you were right, everything is fine".
But we won't.
My instinct was right. But there are no feelings of "I'm right and you're wrong", more a sick feeling as the school run approaches as I wonder how she'll greet me.
My instinct on Friday will be to cry, because I'm tired and worried and want my girl to enjoy her school day, she's there for a long time after all.
The picture – sent to me by Mark – sums everything up very well.
Cou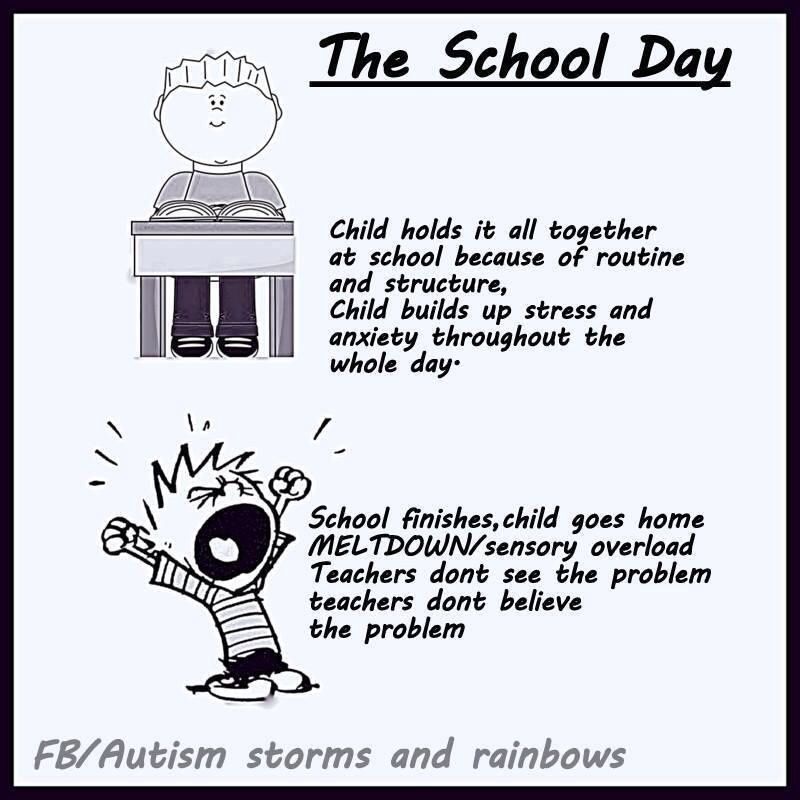 ---
---