Last week (it seems so long ago already) when the weather was warmer and before T and D went back to school, we had a family day out at Thorpe Park. http://www.thorpepark.com
I thought I'd write a post about our day and how we found it, the park and travelling on public transport with two SN children.
We are restricted to public transport as I don't drive and the train journey outwards was fantastic. We avoided peak time as its cheaper, less strangers around and therefore reduced anxiety for D and (hopefully) the chance of a seat. The train journey was 45 minutes and T and D made good use of her iPad. I shall miss these sharing moments once T's birthday arrives and he has his own one (sssh).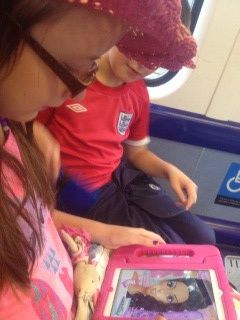 Once we were at Staines (the nearest station to Thorpe Park), it was a different matter. There was a shuttle bus service (£3.50 for me, £2.50 each for the children) but the queues were huge. A bus operative came over and took our buggy to put on the bus, but it was obvious from the queues that it was unlikely we'd be on the same one. Fortunately the people in front of us suggested we go on first.
From there, it was a squash and a squeeze for us to get to the buggy and then the journey began. I was a commuter and the experience was similar. Packed, absolutely packed onto the bus. If one person moved because the bus turned a corner, we all did. T and D stood one in front and one behind, both with their arms wrapped around me. D looked like a pressure cooker by the time we arrived and everyone started to bundle off.
Lesson learnt: next time, it's a taxi. We paid £8.50 to be treated like cattle and it would be far less stressful for the children, albeit more expensive.
We already had our tickets and the buggy-friendly gate was quickly passed. Next was a security check to make sure we didn't have any "alcohol or offensive weapons". Something we were obviously happy to comply with but I realised after that they hadn't asked to check or spotted the picnic bag under the buggy, obviously we had nothing dodgy but…
It would also have been helpful for maps to have been on the security tables as there were none before or just inside the entrance.
Next up was locating Guest Services to sort out a Ride Access Pass as autistic children can have (and mine certainly do) issues with the concept of queuing. The scheme required written medical evidence of diagnosis and was supplied very quickly. This was in the form of a wristband for D and "+ 2 guests" written on the paperwork. Had Hubbie been with us, I presume T would have had a wristband too and Hubbie would have been a "+ 1", as both T and D are registered disabled. In retrospect, I should have asked them about the hire of a Radar key to enable use of the disabled toilets, and it would have been useful if they'd asked if we'd need one. Another tip for next time.
We were here, where to go first!!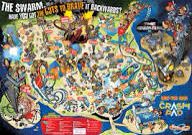 The map was really useful for us as obviously the massive rollercoasters are easy to spot, but T and D being too small and too young (and me being too chicken), we needed to know where the smaller rides were.
Here's a big ride!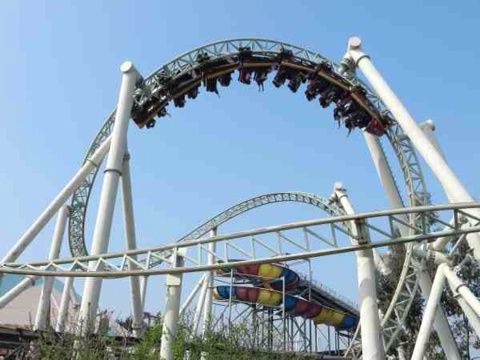 Everywhere you go, a rollercoaster track is never far away and you got used to seeing and hearing people go past in carriages, sometimes upside-down (ugh), usually screaming with the thrill of it all.
The majority of the rides are in get-in-quick-and-get-out-quick-at-the-end so it's important that any child understands the concept of this. I didn't see anyone with physical disabilities getting onto or off a ride, but presumably there is prompt assistance available for them.
First up for us was Storm Surge, which was brilliant fun and wet. I have used stock photos for the rides as didn't want to take my own in case my phone got wet or dropped.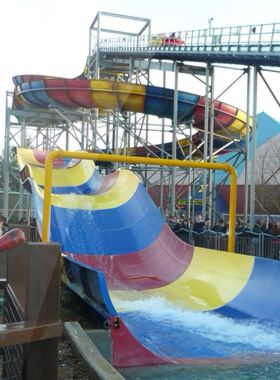 We loved it!
Another water ride next, Rumba Rapids: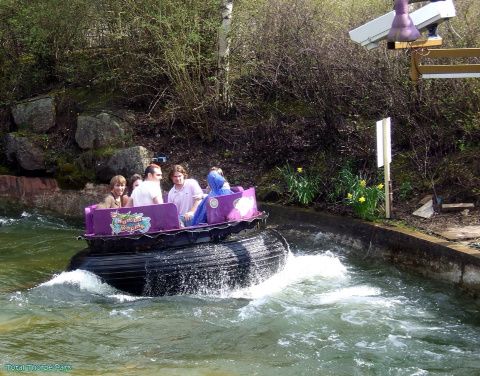 After getting completely soaked, we needed a rollercoaster ride to dry us off. This was Flying Fish, we went on this 3 times!! T and D loved the speed: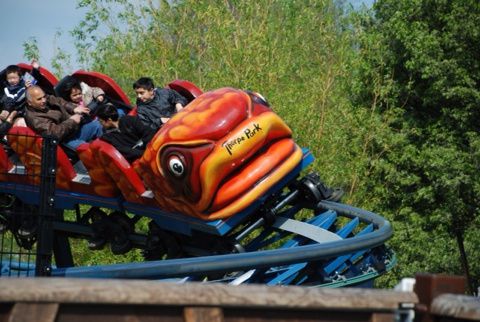 There is plenty of food outlets at Thorpe Park – eg KFC and Burger King – and prices were just slightly more than the high street, a cup of tea first though via Storm In A Teacup and Bunny enjoyed this too!
After lunch and once tummies had settled, it was time to find the one we'd all been looking forward too, Loggers Leap.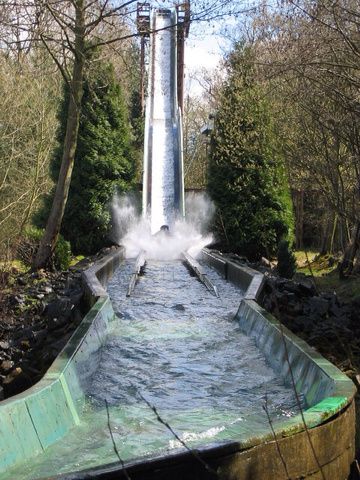 This was high, fast and wet! You start off very gently and then there's a steep ascent and then three very quick, very fast drops. So fast that my glassses flew off!
Our last ride of the day was on Mr Monkey's Banana Boat:
All too soon (and later than anticipated) it was time to board the shuttle bus (just as packed and uncomfortable) to get the train home. It was standing room only but D had her buggy and T found some floor space and drained the battery on my phone.
It was a great end to the school holidays, two very tired but happy children and plenty of talking point for us to remember.
---
---