My Mr T went back to school today, returning as a year 6, preparing for his last year in primary school.
He wasn't looking forward to it, saying the work was "too easy" and that he needed more time off. Hopefully everything will have been handed over from the previous teacher with regard to allowing T computer time when he finishes the lessons ahead of the other pupils.
There are always mumbles and grumbles returning to school after a break but T thrives within the autism-friendly routine environment at his school and *whispers* I'll bet he's secretly pleased to be back. The teachers can set him far better work than I've been attempting to in the holidays.
D returns to school tomorrow, to a male teacher that she hasn't yet met. She doesn't seem concerned about this, more so that she knows there will be another girl in her class and she's worried about her hair being pulled, she has had experience of this within school and the playground. So, a ponytail for school tomorrow should help calm the nerves that have been brewing.
These aside, we've had a lovely day. We dropped T off and headed to the shops and Costa *yay*, D happy to walk around holding my hand and then jumping into the buggy if someone unfamiliar to her got too close. I've had lots of big hugs and "I love you, my lovely Mumma" which has been very very nice!
D has been busily drawing her favourite Thorpe Park rides from yesterday, so our post will be up when she's finished drawing. Knowing how much D likes drawing, this may be a couple of days.
I'm always very grateful when an organisation offers to highlight this blog and help me with autism awareness and acceptance, Cision have spotlighted this website this week and the link is below:
Posted: September 3, 2013 at 8:46 am No Comments " AutismMumma will be featured in this week's Media Updates. Author Jeannette spoke to Cision about her most successful posts, good PR and autism awareness. Why should people read your blog?
Hopefully new readers will have a look and become a little bit aware of this "invisible disability".
I wonder how tomorrow's post will emerge, after D's first day back. I did feel for one child and their parent we saw walking away from D's school this morning, they were in school uniform so had obviously been and were turned away. The expectation of a return to be suddenly taken away must have been difficult to manage.
I hope everyone's had a good day, comments/RTs/shares as ever welcomed, thanks for reading Jx 😘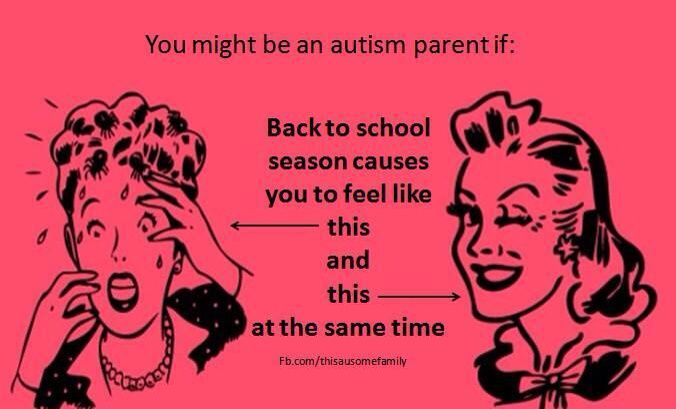 ---
---