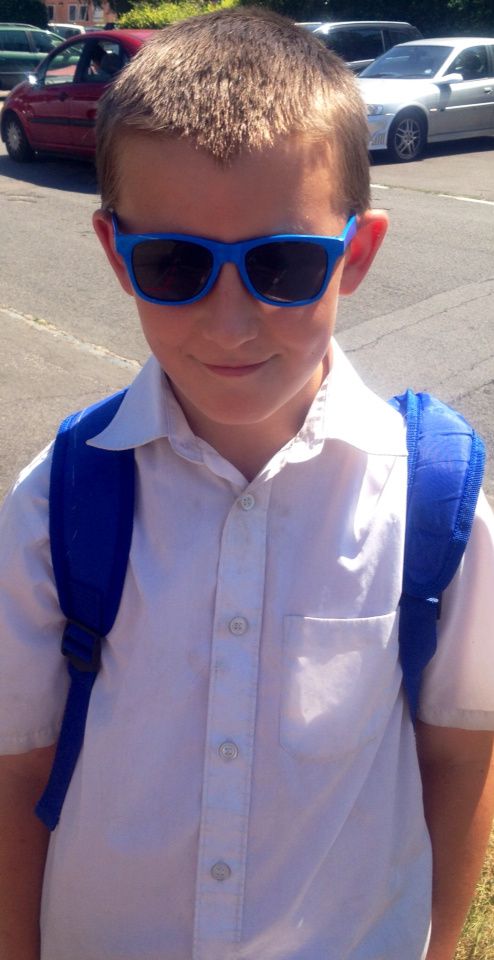 This was T on the last day of summer term, looking forward to the holidays, looking foward to earning some "chore money".
T had a plan for the duration of the holidays, he was going to earn and save up enough money to buy a new home football shirt. With his own money. It would be an eye-watering £57.94 as he wanted to have his favourite player's name and number on it, together with the premier league badges.
All summer he's been collecting 50p and £1 for little tasks done, he'd count all his money that he'd kept in his "Match of the Day" free wallet and then work out the permutations of when he'd be able to buy his shirt, based on 50p/£1 earnt per day.
And last Monday (2nd Sept), the day arrived, T had enough to buy his shirt. We went online and he choose the shirt and the details. Two-day delivery so he anticipated Wednesday or Thursday delivery. *Click, click, click* and the order was generated.
Wednesday came and with it, T's first day back at school. No shirt, no despatch notification. The next day we received despatch details but by now, T was frustrated and anxious as it had gone beyond the 2-day delivery. Friday and we tracked it to find it had been sent to the wrong depot. T was extremely annoyed and wanted answers as to how and why this could happened. The logical and obsessive parts of his high-functioning autistic brain working overtime.
A tense weekend beckoned, offset by a trip to the bookshop, T's other main interest – apart from football and related statistics – is reading.
Yesterday (Saturday) his shirt arrived. I wasn't expecting it to and had pre-warned him not to expect it until Monday or Tuesday. He didn't have a terribly good day, having fallen over and grazed himself and the games he participated in and watched resulting in losses.
He was delighted to receive his shirt and couldn't get the packaging open fast enough. It made his day and all the anxiety around the delay seems to have been forgotten.
Here he is – grazes and all – in the shirt that he saved up all those coins for, his chosen name on the back:
A real achievement for him. Something that he's earnt and saved up for, something that he can be deservedly proud of. He'll always remembering buying his own shirt.
Definitely most a #MagicMoment and a #SmallStepsAmazingAchievements.
---