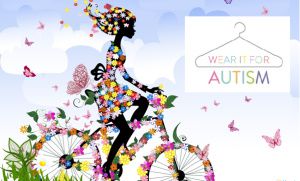 I have a few passions in my life: my children; my husband; music; mochas (!); fashion and raising autism awareness and acceptance.
There's an event happening in September, organised by Anna Kennedy, which will give some very deserving autism carers and individual on the spectrum a chance to be pampered for the evening. Something that as carers there isn't always the chance to do, a bit of pampering takes a definite back seat if there are grapples to be had with the diagnostic process/SEN or day-to-day life.
Everyone having a pampering has been nominated and there will be many other activities during what promises to be an informative and entertaining evening, all in a very good cause.
Here's an excerpt from Anna's website:
Wear It For Autism' is pampering mums, dads, children and carers – who either have autism themselves or care for those living with the condition – they are having a full makeover and taking centre-stage in a super-stylish fashion event at London's Vinyl Factory on Tuesday 10 September.

Celebrities attending including Joe Swash, Rich Clark , Kitty Brucknell (finalist from X Factor) alongside Maggie Paterson, Principal of Pineapple and many others. All the winners will be treated to a top-to-toe makeover by styling experts and take part in the 'Wear It for Autism' catwalk show. Pineapple Arts Dancers will be performing as well as a couple of acts from the smash hit 'Autism got Talent' James Mason and Marie Gorton.

Olley Edwards Proud Female Autism Mum Actor,article and film writer,The Kindest Label Film 2014 & Book 'Why arent Normal People Normal ?' will share a piece of her short film and talk about her book.

Anna Kennedy OBE said: "The idea behind Wear It For Autism was to spoil those who usually never get a chance to treat – or even think – of themselves. Living with autism can be challenging and extremely demanding so we wanted to create a special event, that would be fun for all involved – as well as raise vital funds to campaign for the rights of those with this disability."

Tickets for the show are available now, priced at £25 each and all ticket holders will receive FREE goody bags! All profits go to the registered charity Anna Kennedy Online, which supports UK families affected by autism, including providing small grants for educational and domestic resources.

Winners for Wear it for Autism pamper and makeover are ….. drum roll…………… Adrijana Owen, Laura Rawlings, Sharon Hendrie, Wendy Mills, McInernay family, Rhiannon and Lloyd Thomas, Kevin and Carolyn Fox, James Adams, Carys Subrey, Eileen Kelly and Hannah Assefa , Mala Thapar, Mick and Vicky Cordwell.
D and I will be attending and we're looking forward to it.
---
---