I watched the above programme last week and wanted to share it as I found it very interesting.
As regular readers will know, football is very important to T and Hubbie, I do occasionally have a little moan about how much of their lives it takes up but I can see the benefits.
For T, who relies on structure, there is the knowledge that a set number of games will be played at a given time on a given date, there will be two halves and a result at the end. This carries on for over 9 months of the year in the Premier League and then there are friendlies, tournaments etc. There are the extras for T with the team he plays for and the senior team at his club, it's all regimented, documented and of course, there are the all important match facts at the end.
The programme "Football, Madness and Me" focussed on three young adults playing in the PMA (Positive Mental Attitude) league with varying issues – depression, OCD and schizophrenia.
The programme showed their ups and downs (and there were definitely downs) over a season and they are achieved very positive results, thanks to their commitment and determination and the coaching team.
Here's what the BBC says about the programme: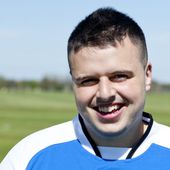 Football, Madness & Me tells the story of the unique Positive Mental Attitude (PMA) football league in which every player suffers from a mental health problem – be it OCD, schizophrenia or depression. Throughout the PMA football season, a team of occupational therapists and coaches help players to learn key life skills, and to build confidence and self-esteem through the game of football.
http://www.bbc.co.uk/mediacentre/proginfo/2013/33/football-madness-me.html
And here's the iplayer link, it's 64 minutes long and there is a bit of swearing but not as much as I thought.
Very inspirational idea behind the PMA and definite positive results for the three individuals mentioned.
---
---