There comes a point in your child's life when the metaphorical apron strings become looser. For me, it's the realisation that secondary school is only just over a year away for T. Whichever secondary school he attends, there will be a journey – whether it be a school bus/taxi if he gets into his first choice or a bus/walk of some distance for his second choice – and that brings concerns in itself. Safety concerns, issues around unfamiliar people and the fact that – a school bus in particular – it may all be too noisy for him. It's going to be an anxious time for all of us.
One thing that will go some way to alleviate mine (and his) concerns will be a phone, but which one to choose? They're not cheap and there is the risk that the one that would be most appealing to him is also attractive from a theft viewpoint. An all-singing-all-dancing phone would keep him occupied on the journey with games and apps, but if that were to be stolen/mislaid then our method of communication is lost, not to mention the inevitable upset that this would cause.
There is also the risk that, if anxieties were to overtake, then the ability to scroll down, find a name and phone would be lost momentarily.
A potential solution has been offered by 1stFone at http://www.1stfone.myownfone.com and it is literally just that, a phone with set numbers and the ability to only dial those numbers. Perfect from a special needs and security viewpoint. Who is going to want to take a phone that they can't play/surf/phone their buddies on?
We were sent the "Word Buttons" and the "Image Buttons" phones to trial out and you can see in the picture below their size:
You'll see from the pictures that the phones are similar to a credit card size and extremely light, they also come supplied with a lanyard so can be discretely worn around the neck/secured in a bag.
There is also the option coming soon of a Braille Buttons phone.
The following images will show the design and ordering process, it's incredibly simple.
Firstly, decide on the button type – Word, Image or (coming soon) Braille: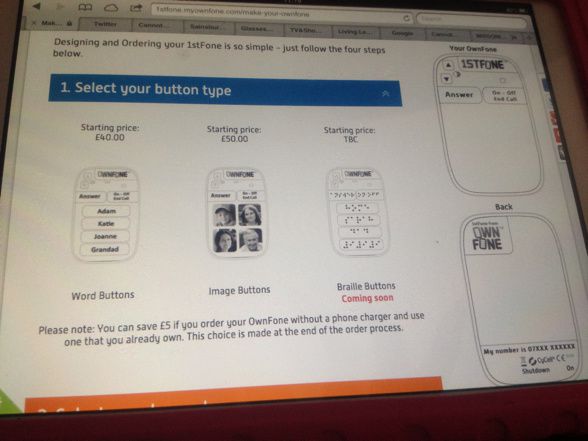 We'll use Word Buttons as an example, next select your keypad, there is a choice of the amount of pre-programmes numbers:
You'll see from the right hand side of the screen that there is a mock-up of how the phone will look.
Next it's time to chose design and colour. For T's Word phone I choose a blue flag design to correspond with his love of football, for D's Image phone I choose a pink, flowery design:
Now, it's time to personalise. There is the option of having the owner's name at the top of the phone and also a "999" button (this is not easily inadvertently pressed).
Again, the right hand side indicates how the phone will look. There's also the option to have the phone number printed on the back of the phone.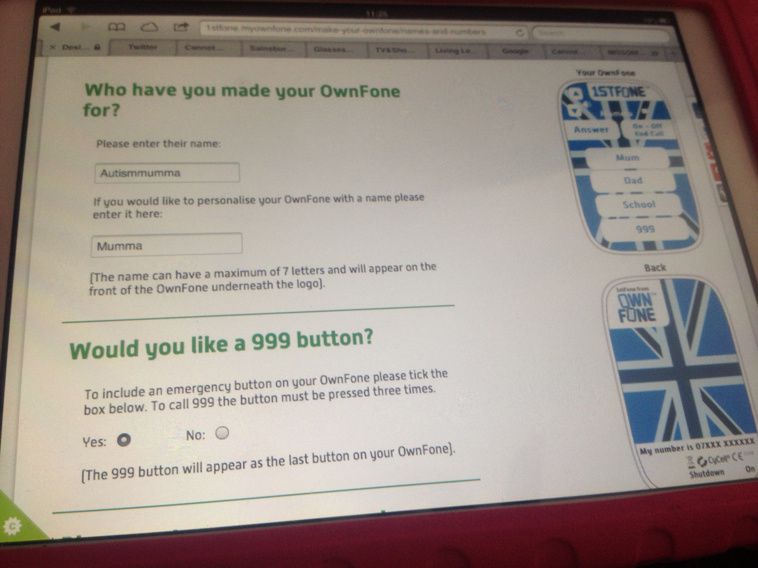 To give an indication of delivery time, the phone was delivered within 5 working days but there is a next day delivery option.
How does the phone work?
Firstly, turn the button at the back from Shutdown to On: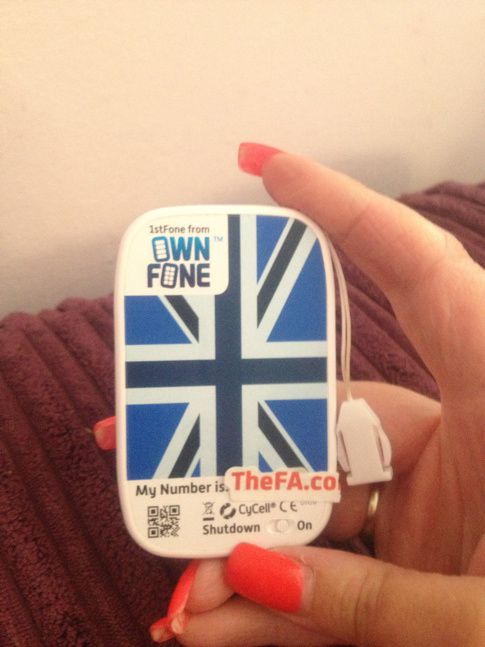 And press the On button at the right hand side of the phone, a blue button will flash to indicate that it's one (a red button will also flash if the phone needs charging, charger included):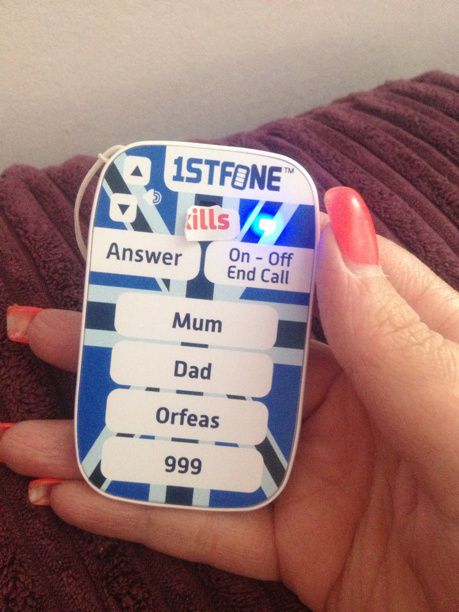 Next, press the button of the person you wish to call, a beep will sound and the call will be made: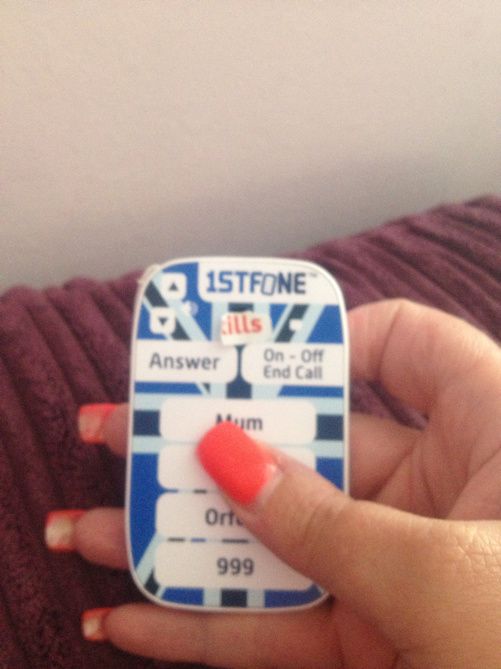 To end the call, simply press "End Call". If someone is calling the phone, there is an adjustable volume ringtone and it's just a matter of pressing Answer. There is no answer phone facility or text message facility, it's purely for making and receiving calls. So, no roaming usage bills and no strange text or picture messages to worry about.
If the child or adult (I can see great advantages to the elderly using these phones) wishes to change the model (say from an Image to Words or increase the amount of pre-programmes numbers), this is easily done through 1stFone at an charge of £5, the same number will be retained and the original phone will be recycled.
So, what did we think of the phones?
For me, the fact that it is just a phone and therefore not appealing to any would-be thieves is appealing. I like the fact it's so lightweight and can be worn discreetly.
T says "it's useful and no one will want to steal it because they won't be able to phone anyone or play games".
D says "I love it, because of the pattern and the funny pictures".
A definite thumbs-up from us, we can definitely see the benefits for young children, SN children and adults, the visually-impaired (with the Braille phone) and the elderly.
For more information, please visit 1stFone at http://www.1stfone.myownfone.com
Disclaimer: we were sent a Words phone and an Images phone with one month airtime for the purpose of this review. My words, images and views are my (and my children's) own.
---
---