Let's start with the good news…. T finally received his gold athletics star today after days/weeks of "the badges will be here tomorrow", which isn't really what any child wants to hear. Especially one who thrives on and needs to know what's happening and when, with no deviance.
I think that's why he was so agitated yesterday, there's the tiredness that comes with approaching the end of a school term, coupled with the anxieties over which class he will be in, with which teacher – there are two classes for each year. It's made me realise that there will definitely be a longer transition period needed leading up to secondary school.
For now though, this little man is very happy to (finally) be wearing his badge…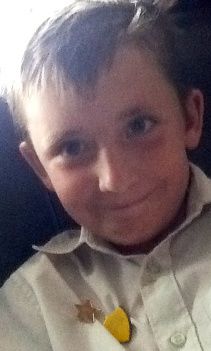 It was a tired and rather warm D that rushed out to me at the end of the day. She can't remember what she's been doing but seemed happy until…
Hubbie came home, having been bitten by a snappy little dog at a house he'd been pricing a job up at. One phone call later and he was off to the doctors for a checkup and tetanus jab.
D then ascertained that one of her teeth was loose so pulled it out. I think it was her way of dealing with what had happened to Hubbie. She will normally come over and show me but tonight it was pulled out beforehand. An extremely cuddly and clingy girl too.
I've been trying to cheer her up by talking about what we'll do in the summer holidays but I really should have used a visual timetable as it just seemed to agitate her. We do have some fun things planned though!
So, it's a "yay" for the badge and a "boo" at the snappy little dog. Lets have a "Wonderful Wednesday" tomorrow please.

I hope everyone's had a good better day. Comments/RTs/shares as ever welcomed, thanks for reading Jx 😘
---
---