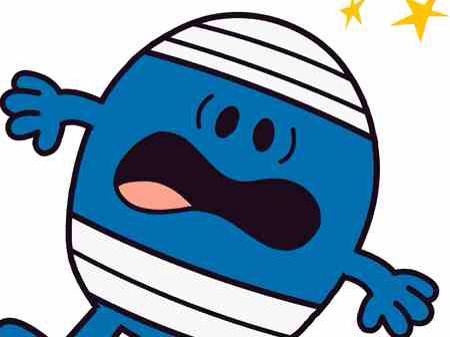 It was a case of the walking wounded coming home from watching a friendly match today. Mr Bump and Master Bump.
Poor T has added to his catalogue of injuries this week – wasp sting, being hit with a stick just above his eye – and now groin strain. He is having trouble walking about and sitting comfortably, but still had to have a self-regulatory bounce when he got home because…
Hubbie has an injury too, a we're-going-to-head-to-A&E-for-stitches-tomorrow injury. A horribly deep gash on the top of his head which was patched up by a limited first aider with an even more limited first aid kit.
T didn't witness it, luckily, but saw his dad flat out on the ground, bleeding. He's been a bit shocked by it, hence the bouncing despite the groin strain.
D was scared to see her dad looking slightly different – bandaged head – but as he's brought a chippie supper home, her tummy took precedence!
We'd had a nice calm girlie day; pool splashing, nail painting and app-playing, much needed after the hustle and bustle that a last week of term entails. She didn't settle until gone 10.30pm last night so hopefully tonight will be a better one for her, despite the Bumps' injuries.
So, tomorrow will definitely be out of routine, bearing in mind our local hospital is also the Duchess of Cambridge's family's local too, I hope she's safely back in London. Local papers took great delight in reporting that news crews were waiting outside in the unlikely event she gave birth there.
I hope everyone's had a good day, comments/RTs/shares as ever welcomed, thanks for reading Jx 😘